LISTEN TO AUDIO VERSION:
High-Net-Worth Individuals have changing financial needs. Merely a decade ago, customers conducted most of their banking businesses through a single bank. Nowadays, it has become common to have multiple banking relationships. As a result, individual wealth is distributed across a wide range of custodians and various jurisdictions with multiple stakeholders providing specialized services. Managing wealth has become more complex.
On the other hand, technological solutions have also made it easier than ever before to manage complex wealth securely. This creates challenges and opportunities for wealth managers: Those who don't keep up with the technological progress risk falling behind and lose their increasingly sophisticated customer base. However, wealth managers that can adjust to the new rules of the game will be able to get ahead of the curve quickly by providing their customers with what they need: An intuitive solution designed for their particular requirements to manage the complexity of their wealth.
Modern tools enable wealth managers to retain and grow their customer base
In an increasingly open and digitized financial marketplace customers have the opportunity to pursue a best-in-class approach when selecting financial advice and products. Additionally, with increasing wealth, the range of financial products that customers can invest in becomes more diverse and sophisticated, requiring various specialized knowledge providers. As a result, customers are looking for a comprehensive digital home for their total bankable and non-bankable wealth and a way to collaborate with their stakeholders securely.
Technologies like the Altoo Wealth Platform offer such comprehensive wealth consolidation, with an intuitive user interface and secure communication channels, giving wealth managers an edge over their competitors. Nowadays, modern tools are not a nice-to-have anymore; they have become an essential part of wealth managers' service offerings.
While technological solutions have become more sophisticated, customers have also become more tech-savvy. Wealth is passed on to the Millennials generation, which is feeling comfortable to have a computer in between themselves and their advisors.
The personal relationship between customer and advisor will remain important. But customers' demands will keep changing, moving towards a greater appetite for constantly evolving technological tools and 24/7 investment data. Thus, to retain and grow their customer base, advisors need to invest in solutions that enable them to share information with customers and improve the customer experience.
Comprehensive wealth management platforms go beyond data aggregation
The increased velocity of Open Banking technology developments and further standardization of Application Programming Interfaces (APIs) have made independent financial platforms more relevant for wealth management clients.
Third-party applications aggregate banking data across multiple platforms and enable advisors to provide it to their customers on one single platform. As a result, banks, the historical owners of client data, see market entries by non-banks which are leveraging Open Banking technology to build holistic customer relationships.
However, the added value of wealth management platforms goes beyond pure data aggregation. The goal is to create a digital home for the user's wealth, enabling users not only to view but also to manage their wealth. Thus, a holistic approach also includes non-bankable assets, provides an intuitive client-focused design, and allows controlled stakeholders access to support secure collaboration and document management.
For instance, a user can provide his real estate advisor with restricted access to only real estate assets and mortgages on the platform. The advisor can regularly update valuations and upload all relevant documents linked to the respective real estate items. An internal messaging system allows for secure communication without having to rely on third-party email services.
Having a digital home with all documents in one secure place also simplifies legacy planning. In the worst case scenario, inheritors will have all the information at hand to protect their family's wealth.
The industrialization of Open Banking will reshape wealth management
Today, Open Banking and modern wealth management tools are still in their infancy. Due to cost considerations and limited supply, most solutions are only available to High-Net-Worth Individuals. However, as technology will become more mature and scalable, the average-wealth customer will increasingly demand similar solutions. While wealth management platforms might still be a niche product, they mark the beginning of the industrialization of Open Banking. There will be significant progress in the years ahead.
Wealth complexity, documentation management, simplified communication, data privacy – wealth managers have to offer comprehensive solutions that address the key concerns of their customers: maintaining the overview and control of their increasingly complex wealth.
About Altoo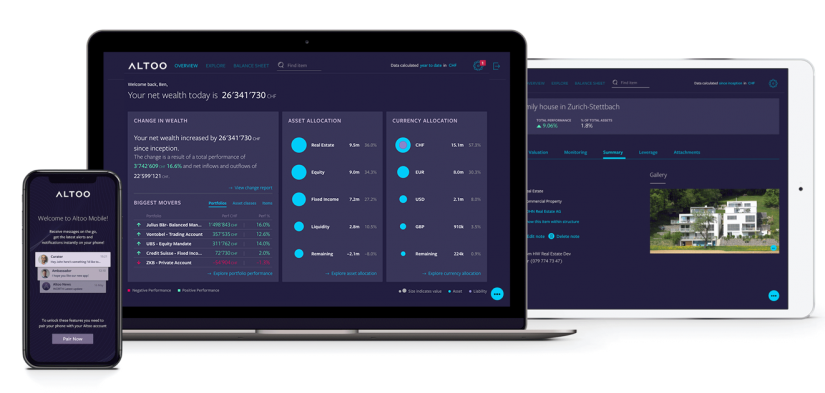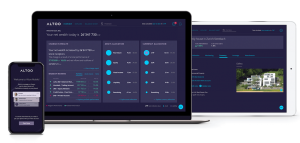 The Altoo Wealth Platform empowers wealthy individuals and their families to consolidate and interact with their total wealth in a simple and intuitive way. With a strong focus on security, the technology is developed and hosted in Switzerland.
Further information on Altoo can be found on Fintech Hub by zeb.