LISTEN TO AUDIO VERSION:
The desired success depends on the willingness of the team to adapt
Primary banks and associations are developing digitalization strategies, target images and single projects in order to successfully and sustainably lead institutions into the digital era. The scope and level of ambition are just as varied here as the planned length of implementation—this is our zeb experience from ongoing digitalization projects. But where is there agreement? It is in the conviction that digitalization differs from other current change processes: it deals with almost all business units and processes and is significant for all participants. Thus, the desired success not only depends on technical feasibility, but especially on the willingness of the team to adapt. The key component on the way to the digital era is effective change management.
Effective change management as a systematic process for sustainable success
People stick to what they are used to so that change can only be successfully achieved by following a targeted and structured process. The pioneer theory of change management goes back to Kurt Lewin's 3 phase model and John Paul Kotter's current 8 phase model of a modern management agenda belongs to the most well-known process models for sustainably successful change (see figure below).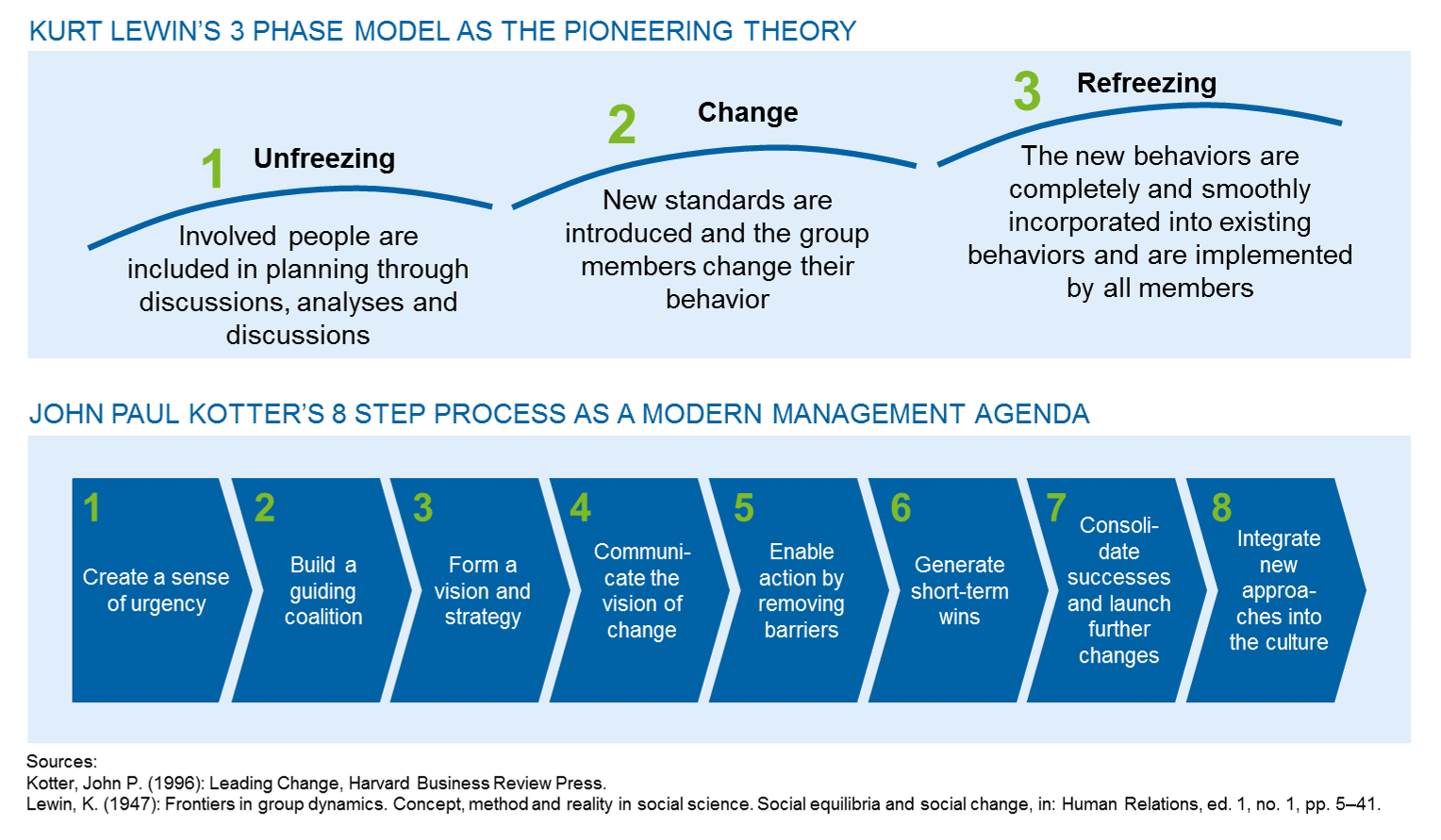 However, despite the process models being well known, our experience shows that decision makers in primary banks and associations are confronted with the fact that digitalization projects are only implemented with difficulty or too slowly and complicated single projects (although successful) cannot be sufficiently aggregated to the total success. So what has changed?
Need to adapt the management agenda for effective change management in the digital era
Neither change management nor digitalization are new phenomena. But what is new is (I) the variety of technical changes, possibilities and innovations, (II) their demand for extremely high implementation speed and (III) their extensive spillover effects for the entire organization. This combination has the consequences that various change processes overlap, single change processes are interrupted, modified or restarted and the organization thus finds itself in a continuous process of change (see figure below).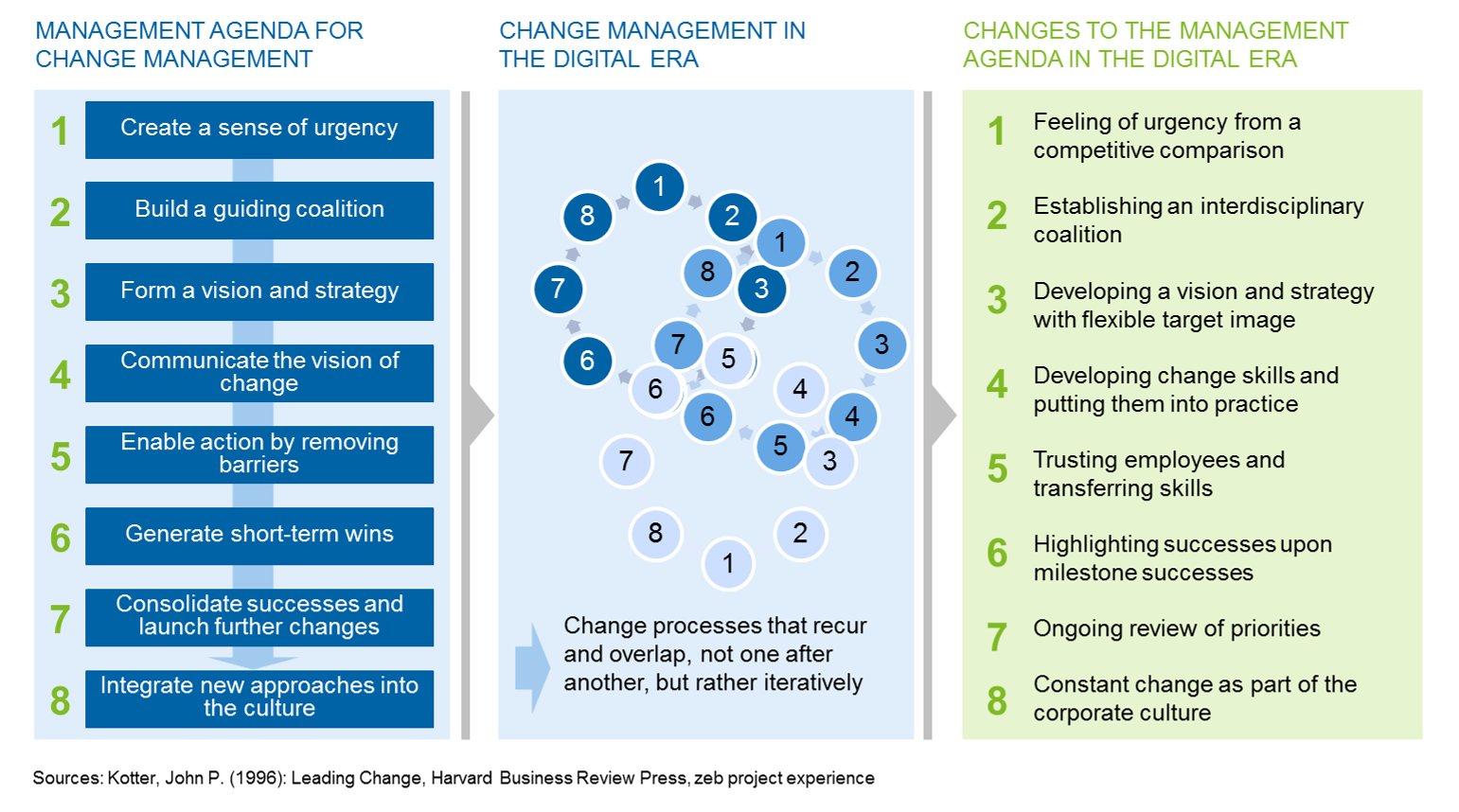 The ongoing change across all business segments and the overlapping of various projects pose new challenges to the known process steps for effective change management and justify corresponding action.
1 ) Feeling of urgency from a competitive comparison
The current market environment for financial services providers has high density of competitors and ambitious FinTech companies. In numerous interviews, decision makers stress the importance of keeping up with digital change. Current zeb studies however show that only a slight majority of executives actually believe in a significant profit fall if digitalization efforts break down and thus only initiate few specific measures. A look at (digitally) successful competitors might provide inspiration by showing what is already a (digital and) successful reality.
2) Establishing an interdisciplinary coalition
A competent leadership team needs to effectively represent and declare the forced change. Unfortunately, management boards often lack the knowledge and experience to effectively use the current possibilities of digitalization. Our project experience shows that traditional leadership teams often reach their limits here. Interdisciplinary teams with sufficient skills and a systematic market observation process can be a first step in the right direction.
3) Developing a vision and strategy with flexible target image
In a traditional world (rails, switches, schedules), the management team first develops a target vision and then a strategy for achieving the target. But in a digital era, we are certain that another strategic approach must be taken: due to the speed of developments, it is often hardly possible to define one specific target image. Today's apps will be obsolete tomorrow. Products for tomorrow are already from yesterday. Visions must now be developed and pursued differently. Executives need to take on a new role: they need to convincingly convey that successful practices from the past are reaching their limits and that innovation and change skills are expedient.
4) Developing change skills and putting them into practice
How can a vision of the future be communicated if nobody knows what banks will look like in ten years? Rather than waiting for a polished concept and repeatedly searching for orientation, digitalization requires decision makers to deal with one thing in particular: deal with speed and uncertainty in the digital era differently. Rather than straightforward conviction in a new concept, composure, openness for new ideas and change skills are needed. These characteristics cannot just be named, they need to be practiced.
5) Trusting employees and transferring skills
Corporate structures that resist change must be broken down. Our experience shows that agile project management, interdisciplinary teams and a high level of freedom can even contribute to asserting new ideas across department borders. Qualification of employees on a broad scope requires a culture of trust. An agile project procedure but without an honest willingness to transfer skills will prevent these methods from being effective. It is only possible to motivate a large number of employees from various parts of companies by (at least partially) breaking down the traditional hierarchy structure.
6) Highlighting successes upon milestone successes
Primary banks and associations often find themselves in a reactive position. Having many individual projects makes it hard to see the short-term successes of a digitalization strategy. New needs for action are around every corner and chances to pause and reflect on successes made become rare. Who wants to talk about successes if there is still so much to do? Our project experience shows: this is a false conclusion. In the digital era, the short-term successes have not become less important. Quite the opposite. The dedication of participants suffers if the "small" successes are seen as less important than the overall strategy. Furthermore, waiting for the major digital turnaround is usually neither realistic nor desirable. The communication of small improvements to productivity and processes has a positive effect on the dedication and commitment of participants.
7) Ongoing review of priorities
Many change projects fail at a late stage, even if they started very promisingly. At the start of a change process, the participants are motivated and focused. The first milestones are achieved on time, ticked off and the first successes can be seen. The speed of digitalization and the diversification of various topics quickly return to the project reality. New topics are raised in meetings if their significance outweighs the position of the ongoing project. Other opinion leaders may assert themselves, tasks may be allocated again and topics may be postponed half way through. That can be good in a way. A number of digital trends from recent years can be identified that were initially seen as having a lower priority and are no longer monitored. An ongoing observation of priorities and open communication of reasons for restructuring can create consensus and clarity for all participants.
8) Constant change as part of the corporate culture
The aim of a successful change process in the digital era is to "transition" to new processes, tools and tasks in a practiced corporate culture. Our project experience shows that current change processes only occasionally achieve this aim. After a migration, the new program is used—after a process change, new process steps are adhered to, but still decision makers complain about low dedication, a lack of understanding and poor motivation of the users. A repositioning within the process may be necessary. The flexibility in thoughts and action must be an elementary component of the (corporate) culture in order to completely release the necessary willingness of the team to change.
Real changes require time and in a digital era are based on a systematic management agenda so that sustainable success can be achieved. The new challenges for professional change management can be effectively countered and our information shows possible options that are to be adapted to the company's circumstances in individual projects.