Poland – short intro
Among European countries Poland rises as innovation leader introducing more and more technologically unique channel solutions. In order to justify this statement, let us have a look on couple of figures. Although online banking penetration in Poland – 32% – is rather low compared to UE average of 42% it is growing at rapid pace of 11% [Eurostat CAGR 2008 – 2013]. If seen from the perspective of Internet users, 96% of them were actively using online banking which is higher than Germany – 80%, UK – 80% and even Netherlands – 92% being one of the leaders in terms of online banking penetration [thefinanser.co.uk – "How many mbank users are there in Europe and who are they?"]. While online banking access became standard banking offer mobile banking access has only developed in recent years. In 2013 37% of European internet users declared to use mobile banking. In Poland penetration reached 44% (33% in Germany, 35% in UK, 44% in Netherlands) [ING International Survey – "Financial Empowerment in the Digital Age"] showing enormous potential for mobile banking services growth. In first quarter of 2014 there were 2,8 mn active mobile banking applications users in Poland and the number exploded in 2013 (in the beginning of 2013 1,1 mn active users) [http://prnews.pl/raporty/raport-prnewspl-rynek-bankowosci-mobilnej-i-kw-2014-3141685]. Yet another proof that banking innovations are no longer domain of countries with biggest and well developed banking sector comes in the area of payments and debit cards. Visa Europe reported 340 mn contactless card transaction were performed in Europe in 2013 whereof 46% (158 mn) were performed in Poland [paymentscardsandmobile.com – "Europe embraces contactless purchases in 2013"]. Poland rises as the most advanced contactless card payments country in Europe with 58% share of contactless cards in total number of cards and 52% share of contactless acceptance locations in total number of card accepting POS in the end of 2013 outpacing any other European country in the statistics [Netbank, Q4/2013].
Example of innovative approach in corporate banking
In the shade of this prone to innovations market in 4th quarter of 2013, Polish subsidiary of ING Groep N.V. released online based e-commerce platform addressed to companies and entrepreneurs under name of ALEO. A SME client of ALEO is able to both acquire and sell (via ALEO integrated online shop) merchandise and services online. Transactions might be organized in form of a tender allowing bidders to negotiate for the best price. Sellers are able to create contact groups and address a given offer only to selected customers. On top of that the platform is equipped with user based reliability rating and financial stability rating provided by ING, as well as with dedicated payment system for transactions being performed on the platform.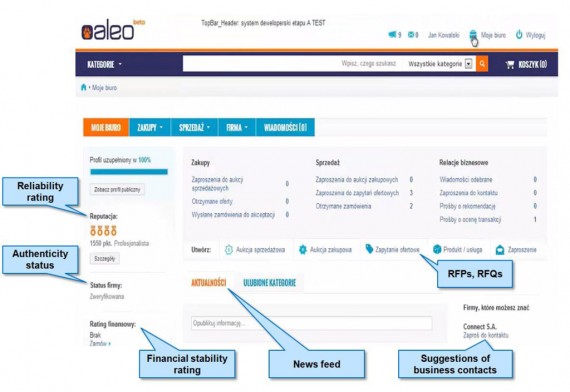 Why do we believe that ALEO is really innovative and worth mentioning as an interesting case study? In order to proclaim a solution as an innovative three factors need to be met: solution is new in a given field, its introduction is economically justified – it brings value to the company, customers are willing to use the solution as it brings value to them.
Offering novelty
Described solution until now has not been introduced successfully in Europe creating a major breakthrough for B2B clients. With European wide reach ALEO might become serious competition for current, global B2B e-commerce leaders – Ariba, Alibaba, Emptoris – and is the only one bank-owned creating enormous potential for complementary financial services development and sales. What is more, with ALEO ING bank is entering non-banking services, searching out opportunities out of its traditional business, while usually the banks have to defend their territory (e.g. from telecoms entering the payment area).
Bringing value to the bank
ALEO is a smart approach to acquire new clients. After 8 months already 30 000 clients are registered on the platform which constitutes 10% of overall ING corporate client base in Poland. Attracting some of the users to become bank clients and cross selling banking products along with transactions on the platform will have direct impact on the bottom line and justifies cost of the venture on ING side. Information about products offered or purchased allows ING to offer almost automatically financial products which are complementary (e.g. factoring service to the seller or leasing of the bought product, e.g. car).
Bringing value to the customer
So far ALEO functionalities were available in many different locations – through aggregation users of ALEO are able to save time. Furthermore convenience of users is much higher as sales or purchasing process is conducted online from the beginning to the end in one place. Finally ING is not charging ALEO users for the registration, execution of transaction or any other platform feature. Following the Polish success, ALEO will be leveraged by the ING Group and transferred across Europe: ING is planning to introduce ALEO in Turkey this year and considers Germany, Netherland and Italy as further targets.