LISTEN TO AUDIO VERSION:
Necessity of becoming disruptive
When discussing innovations in the world of professional services, there are two phenomena that the market has been experiencing for years now. First there is the emergence of new players who realize that they can get a slice of the cake since they are not burdened with cost and the traditional way of doing business. Second there is the shift of traditional providers of a service towards other businesses—since customers are keen on aggregation, why not offer several services on one platform? In the banking sector, the above phenomena caused banks to feel threatened and pushed them towards a constant search of new opportunities and revenue sources, e.g. becoming an aggregator of non-banking services within their app, which belongs to one of the applications that is most frequently used by consumers on a daily basis. This has become even more critical with PSD II coming into force and shaking the market up again.
Trying to become disruptive is one thing for banks, but to actually succeed on a large scale and get ahead of competitors is another thing. To find out what it takes for that to happen, this article illustrates recent efforts of Bank Millennium, the Polish subsidiary of Banco Comercial Portugues (BCP), one of the biggest banks in Poland focusing on retail banking. According to recently published research reports, Bank Millennium ranks among EMEA's most advanced banks in terms of digital maturity, readiness for open banking and offering beyond banking services.
Goodie: a smart shopping advisor
When Bank Millennium decided to design and launch its new independent venture named Goodie, the banking world received the news positively and anticipated a possible breakthrough in how banks approach customers. Goodie is a platform that aggregates discounts, promotions and new deals offered by retailers (both online as well as brick and mortar), shopping malls and restaurants. Currently the platform consist of four sections:
a dashboard with a list of personalized offers and discounts
a list of shopping malls with promotions and upcoming events
aggregators of informative flyers released by supermarket chains
a virtual loyalty card creator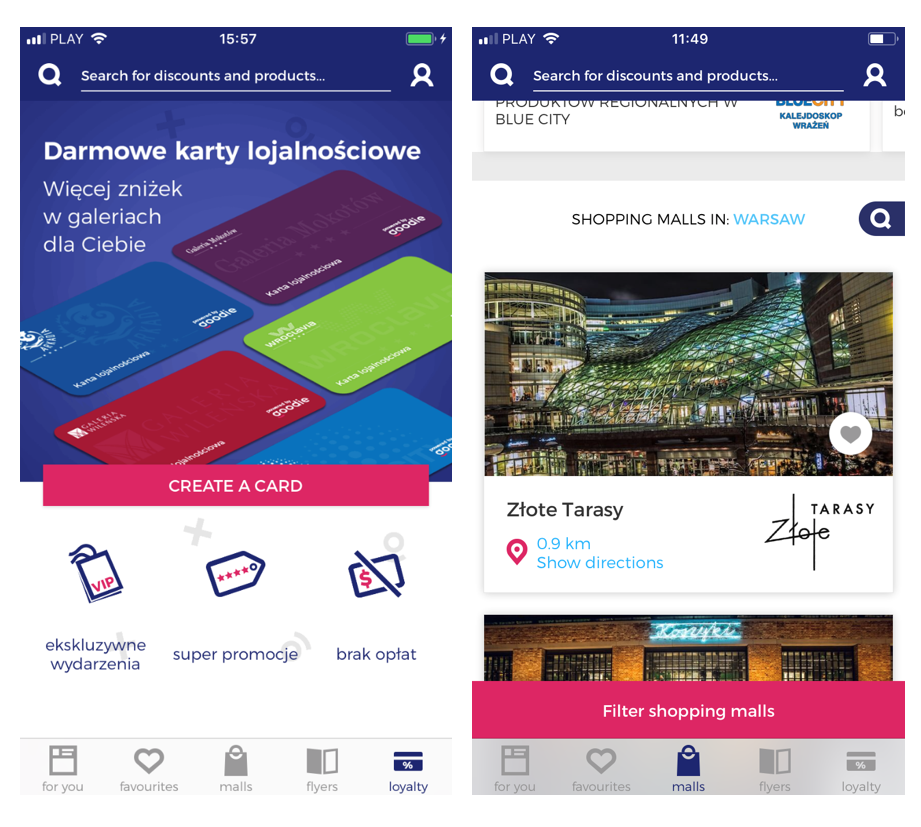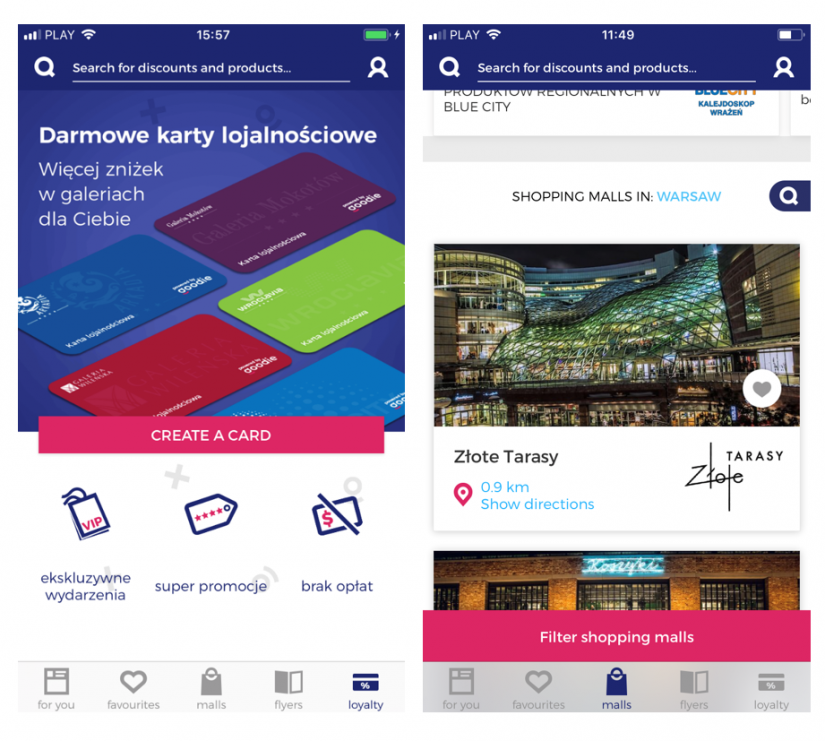 To improve customer experience, targeting capabilities and time to market, Goodie is cloud-based and uses geolocation, artificial intelligence and machine-learning components.
One year after its launch, the Goodie application was downloaded more than 150k times and the number continues to grow since then. As of June 2018, it already exceeds 400k.
Competitive comparison
Despite Goodie's success in the field of user attraction, the application's innovative nature does not become clear at first sight. So far multiple Polish and international banks have already been engaged in activities which might look similar. It is almost market standard that debit and credit cards issued by banks allow customers to claim exclusive discounts when paying with the card at a POS. More sophisticated tools have also been developed by some players. mBank (Polish Commerzbank subsidiary) launched a very similar discount aggregator which has been available for almost 5 years now, however it is limited to the bank's customers only and is embedded into an Internet and mobile application. By attracting corporate partners, PKO Bank Polski has a different approach to customer interaction in a marketplace and the acquisition of related customer behavior data. The bank has recently acquired Zencard, a company offering loyalty programs and related analytics based on card transactions of customers through card terminals at a POS. On top of that, there are numerous non-bank related marketplace aggregators, not to mention giants such as Amazon or Alibaba that are gathering terabytes of data on their customers' consumer behavior. So how is Goodie different?
The key differentiator is that from a user perspective, the owner—in this case Bank Millennium—is not visible. The application is accessible to all customers. There are no special offers for Bank Millennium customers, there are no Millennium banking products offered and the bank is not marketed in any way. One might ask why the bank is even investing in such an undertaking. But what seems to be a disadvantage is actually Goodie's major competitive advantage.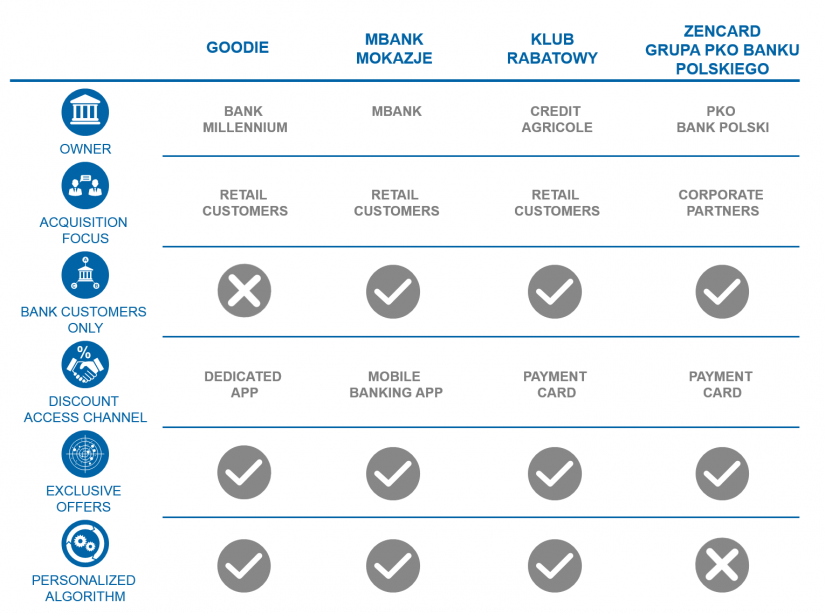 Potential gains—more than banking products sales
There is no doubt that at some point Bank Millennium will try to engage with Goodie users. Its competitors use exclusive discounts and tools to attract customers on condition that they become bank customers first. The problem with the competitors' strategy is that the decision to change a bank will unlikely be driven by the availability of discounts only. In the case of Goodie, anyone can join without any commitment, familiarize themselves with offers and in the future potentially use banking products linked to specific discounts or transactions offered through applications. That way, the process of winning over customers from other banks will become smoother. In addition, Bank Millennium will already know Goodie users very well, which makes targeting far more precise.
Goodie's strategy might become even more relevant with PSD II being finally implemented into local law and becoming mandatory for financial institutions. Bank Millennium will have the unique opportunity to not only target Goodie users through its product, but also to use customer data from other banks to offer loans. One example could be offering short-term loans to Goodie users who decided to purchase an item through Goodie using an available discount. Customers might not have sufficient funds to cover the purchase and Bank Millennium will be able to access e.g. their account and transaction histories from other banks and evaluate the customers' creditworthiness in order to present a binding offer in no time.
What is more, it is also unclear in which direction banking will go in the future, and Goodie seems to be an insurance policy for Bank Millennium. One of the widely discussed possible scenarios sees banks as marketplace aggregators also for different types of non-banking services. With Goodie in place, pivoting in such a direction would be far easier for Bank Millennium.
Undoubtedly, Bank Millennium is also using Goodie as a playground for artificial intelligence supported technology development, with the topic becoming more and more relevant and already widely adopted in Polish banking.
What is next for Goodie?
Bank Millennium already announced that new features will be released within the application this year (e.g. new loyalty programs with additional features). Clearly, building up a number of corporate partners and thus available offers as well as making more offers and discounts available exclusively to Goodie customers (currently, most offers are widely available) will contribute to its success, since the current scale is not sufficient to be a true smart shopping advisor. Finally, it would be really interesting to make offers and discounts exclusively available on a single user level based on their behavior, transaction history and banking product portfolio.