LISTEN TO AUDIO VERSION:
Change of retail banking as we know it
Over the past few years banks have been pushed out of their comfort zone at the center of their clients' financial universe. Each day, banking is increasingly becoming a commodity (as seen in telecommunications, energy services, etc.). Presently many banks lack a comprehensive view on specific client needs and the worst is yet to come. Once PSD2 is in place, there is a realistic risk that many clients will become disconnected from their banks, resulting in the loss of valuable digital touch points and ultimately shrinking revenue.
Banks will be forced to open up client account data and initiation of payments from these accounts to third party providers, with client permission. PSD2 brings two new important terms to banking, Account Information Services (AIS) and Payment Initiation Services (PIS). AIS providers offer a consolidated view of client payment accounts with different banking institutions, this gives AIS two crucial strenghts – digital touch points and valuable client data. At the same time PIS providers, with client permission, enable initiations of payments directly from a client payment account. These changes will open the door for new payment business models as well as revolutionize online banking services as we know them. As a matter of fact, standard payment channels such as card payments as well as internet / mobile payments are in danger. Sofort (Klarna) in Germany is a good example. Clients are able to make a payment directly from their own accounts, omitting the traditional payment channels resulting in lower fees received by banks and card network operators. For several years most online retailers in Germany have accepted Sofort as an alternative payment method in line with cards or PayPal.
Uncharted waters for business opportunities
A bank might decide to focus purely on regulatory compliance with PSD2 and implement only the regulatory necessities. However, implementing the regulatory minimum will bring costs and no new revenues, worse – future revenues will drop.
zeb examined the effect of the "do-nothing scenario" on an average retail bank (see Figure 1). Building on the data and insights about the revenue pools of the largest European banks, it becomes clear that seeking minimum compliance is not a competitive option. Arguably, banks' gross retail income could decrease by up to 18% in 2020. The forces eroding profit are mainly missed online cross-selling opportunities, decreased transaction income (e.g. credit and debit card transactions) and growing churn rate due to increased client base volatility. Once clients get used to "one-stop shopping", it will be easier to change financial provider, particularly if aggregators offer to handle all bank transfer administration formalities on the client's behalf.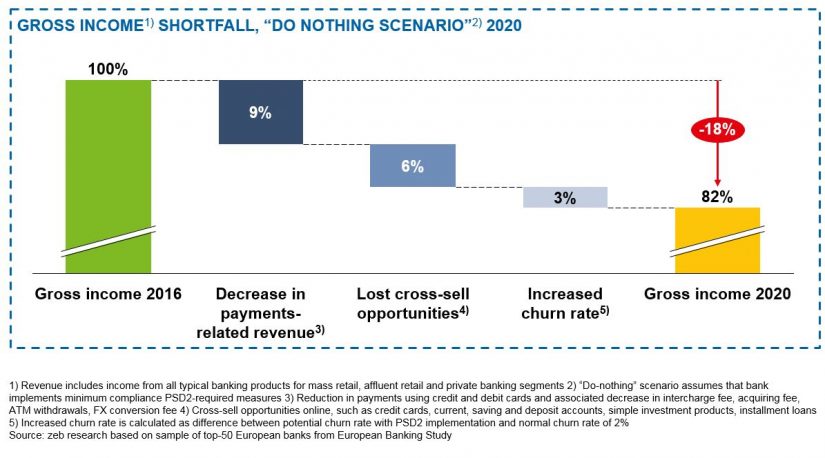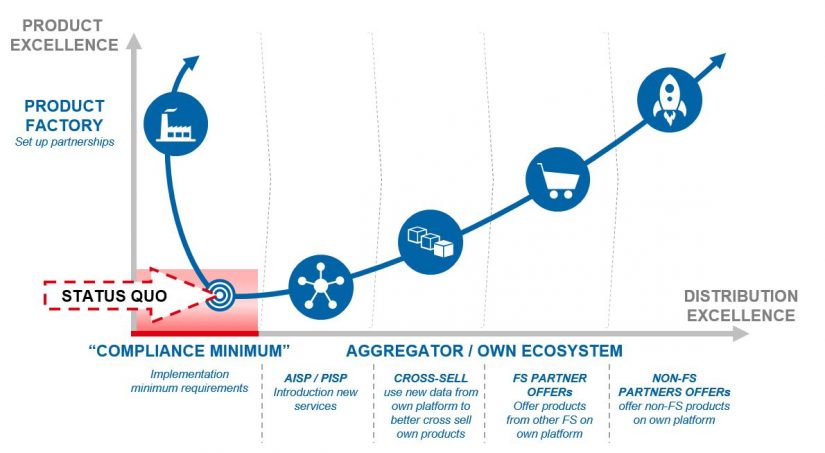 zeb believes that banks have two key strategic options to grow in the radically changing business environment driven by PSD2 (see Figure 2). Once regulatory compliance is achieved, the next steps strongly depend on the current business model, the complexity of the operating model and most importantly the level of ambition.
We believe that banks will have to focus on a clear competitive advantage either in production or distribution of banking products and services. Focused players with tailor-made business and operating models will likely be the winners in a PSD2 world.
Banks as product factories excel at one or several core products and compete on price and volume. It is a strategy focusing on specific product lines and / or back-office services. A bank can offer own products or services on third party platforms, gaining access to a platform partner's client base. Revenue will be shared with the partner. The main drawback for product factories is a lack of a direct engagement with a client, since the client experience remains with a platform provider and competition is based on price, rather than on service level.
A brighter spectrum of opportunities can be attained by providing aggregation services and building a personal ecosystem. Distribution excellence is achieved through state-of-the-art digital user experience and offering the best products on the personal platform. Attractive revenue streams will follow – from the cross-selling of the own products and services to the integration of the other financial – insurance, asset managers – and non-financial services and service partners, such as travel agencies, real estate agents, etc. Any online operator that can place offers on the bank-serviced platform can be welcomed. Clearly it depends on whether the platform is opened to non-clients and how it can be accessed, but ecosystem operators have the highest business growth potential in a PSD2 world. Becoming an aggregator is a multi-step process that will require large initial investments.
No matter which strategy banks decide to choose, the true challenge will be to select the concrete implementation use cases that can leverage the opportunities provided by PSD2. Whether this is to define new business models or to optimize current business offerings, as shown in the example below, a decision needs to be made.
Use case: Point-of-sale consumer finance
Many banks have started leveraging PSD2 related opportunities to optimize current business processes. Western European bank has considered using access-to-account functionality to enable faster and more seamless consumer financing at the point of sale (See Figure 3). Once client consent has been received, a salesperson – acting as bank agent – on a tablet at POS uses the client's debit card credentials to access the client's main account with a third party bank. A client's payment account data such as salary, rent, and other regular payments are used in the automatic identification process to determine credit scoring and make a financing offer for an item (e.g. a bike) in close to "real-time". This digitally-enabled process is completed with the client's electronic signature on the contract present on the tablet. Once the bank providing the consumer financing has the client data, it can use this for cross-selling opportunities and offer complimentary products, such as insurance for the bike, etc.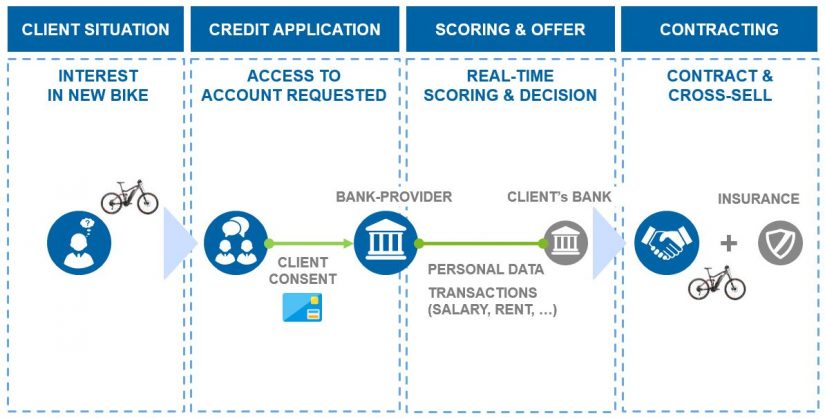 Get started
Timely and correct implementation of regulatory requirements needs to be ensured, however banks cannot miss out the strategic opportunities if they want to stay competitive. zeb's experience shows that decision makers should carefully consider both "must" (regulatory) and "can" (business) sides.
Banks need to become compliant with the final requirements by autumn 2019 at the latest (still to be finalized by regulators), however the extra business moves will make a difference and there is no time to lose. We believe that next 1.5 years will be extremely interesting period to watch and act since the retail banking landscape in Europe will change for good.