LISTEN TO AUDIO VERSION:
Survey results on digitalization and sustainability
In order to gain more insights into the digitalization and sustainability mega trends in the financial sector, zeb derived ten selected hypotheses in March / April 2015 and analyzed the different opinions of BankingHub readers.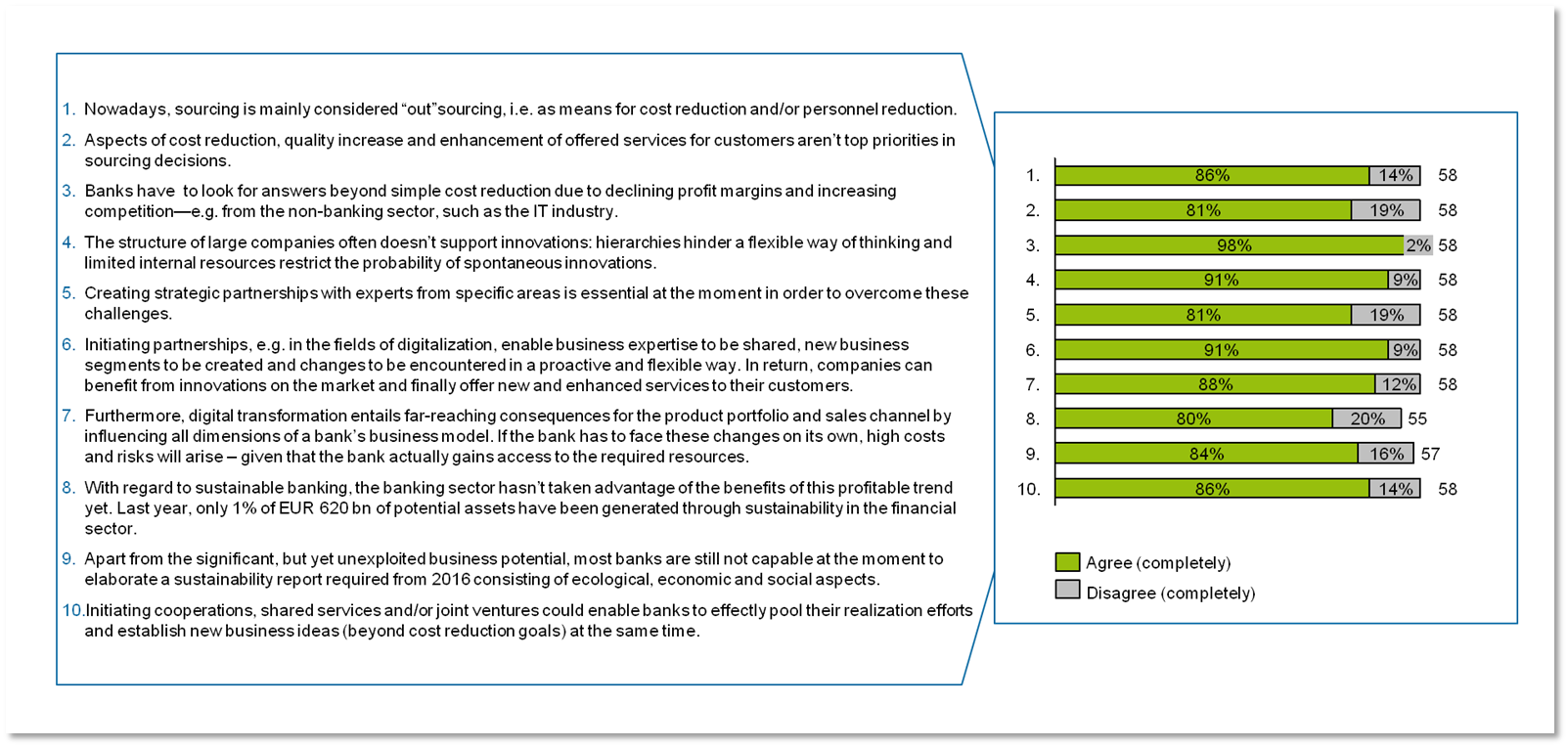 The overall opinion of BankingHub readers is clear looking at the possible answers agree (completely) / disagree (completely): more than 80 percent (completely) agreed in all ten hypotheses. In particular three statements (hypotheses 3, 4 and 6) are striking as here the approval exceeds the limit of 90 percent. In an environment of declining profit margins and increasing competition from the non-banking sector, survey participants thus confirm an urgent need for action for the banking sector beyond simple cost reduction programs (hypothesis 3: > 98 percent agree completely). Consequently, the search for answers is rather driven by innovation—regardless of whether the established banks approve it or not.
The participants don't think the internal organization is capable to induce a change of mind from its very own structure. Since the organization is characterized by hierarchy and limited internal resources, the probability of innovation from the organization itself is restricted (hypothesis 4: > 90 percent agree completely).
It is rather the creation of partnerships that is important at the moment (hypothesis 5: > 80 percent agree completely). When using external know-how, banks can benefit from innovations on the market and offer their customers new or enhanced services. At the same time it is worth mentioning that cooperation always entails an increased coordination effort and the delegation of competencies.
The survey has provided first interesting insights characterized by an inevitable connection between new forms of cooperation and the digitalization trend. Now we are excited to develop a profound understanding of the digital incentives with focus on the perception on C level. zeb is currently conducting a comprehensive study amongst European COOs for systematically analyzing essential issues and trends in particular in the context of COOs. This study focuses on the fields of digitalization, regulations and profitability. First results will be published in Q3/2015. These and additional topics are to be discussed with zeb clients afterwards for preparing them for future challenges.