Sustainability, defined as a triad of ecological, economic and social aspects, has been incorporated effectively in sectors other than finance for more than a decade and has brought forth considerable economic success: hybrid cars have been developed, organic food can be bought even in convenience stores, fast food chains offer a choice between fries and apples and debates about fair wages and labor security in sourcing countries have arisen. Since the eighties, environmental protection in Europe—driven by ecological initiatives—has proven to pay off. Its achievements are clearly visible, especially in comparison to Asian countries. Many cities in Asia have tremendous environmental and health issues caused by severe smog or waste problems. A comparison with European countries reveals differences regarding the conceptual notion of sustainability in energy or social politics. Many companies in different industries have realized this change of attitude and have reacted to it by establishing new business fields and creating new products—a revolution that has proven to be quite successful. Figures show that nowadays, large multinational blue chip companies are able to generate nearly half of their annual return with sustainable products, which indicates the enormous impact of the "sustainability sector".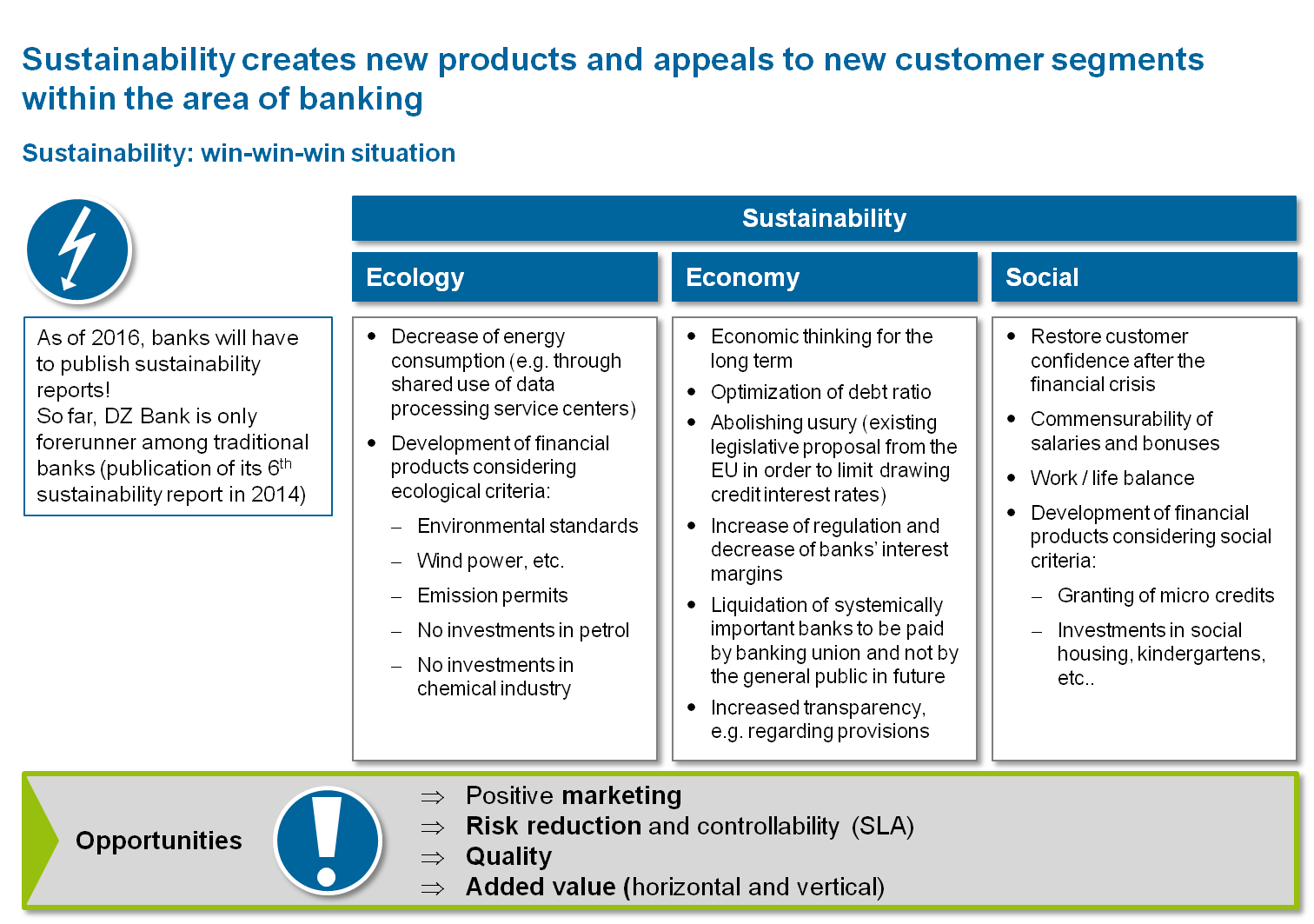 However, the banking sector has not yet taken advantage of this profitable trend, even though it holds considerable unexploited business potential. A study conducted by zeb.Research and Alanus Hochschule demonstrates the demand for sustainability in the financial industry: it shows that 79% of the general public want more transparency about how banks invest their savings deposits. To further illustrate the potential of the sustainability market in the financial sector, the following figures regarding total assets and client numbers are stated: in 2013, banks in Germany recorded aggregated total assets of EUR 7.8 trillion. Nevertheless, only four banks—socio-ecological financial institutions—have dedicated themselves to sustainability, with total assets of EUR 7 billion (in 2012) and not even 300,000 clients. Thus, there is an unexploited market, as the study by zeb.research and Alanus Hochschule points out: the total potential of sustainable banking currently comprises 16 million customers with combined total assets of EUR 620 billion. In other words, not even 1% of the potential customer base has been developed yet! On the other hand, challenged by the currently difficult market environment with low interest rates and low profit margins, banks are forced to enter new business fields where there are still profits to be realized. The field of sustainability fits this description perfectly: the sustainable banking sector offers a potential profit of EUR 15 billion per year to be earned.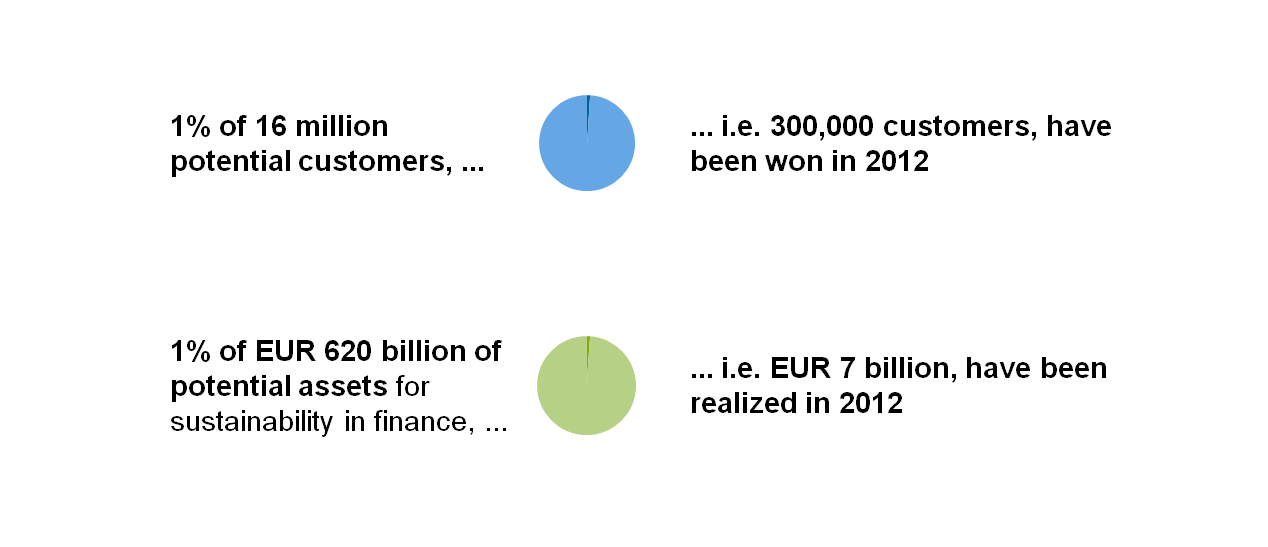 Moreover, not only market pressure and opportunities should encourage banks to engage in the sustainability sector—increasing regulatory pressure should also make them sensitive to the subject. As of 2016, banks will have to publish sustainability reports. In this respect, DZ Bank is yet the only forerunner amongst traditional banks, publishing its 6th sustainability report in 2014. In addition, public media as well as high-ranking representatives of financial institutions demand a general movement towards more ethical practices. Elke König, president of the German Federal Financial Supervisory Authority (BaFin) and member of the Supervisory Board of the European Central Bank (ECB), claimed during the new year reception in 2014 that "less Gordon Gecko and more decent trader is needed". After more than six years after the beginning of the financial crisis, this request should be listened to very carefully, when it comes to improving the reputation of the finance sector and regaining customers' trust.

Thus, how can the financial sector react to these pressures and what is the best way to take advantage of the chances offered by this new trend? First of all, let's have a closer look at successful players in the market. As mentioned before, only four banks in Germany can truly be called sustainability banks: EthikBank, GLS Bank, Triodos Bank Deutschland and Umweltbank. But despite growth rates of 20-30% p.a., the four banks aggregate a market share of only 0.2% of the German private customer market / retail market due to the fact that many potential customers are simply not yet aware of their existence. Consequently, marketing and PR measures are necessary to develop the market of sustainability banks and to attract customers. Additionally, not only the market itself has been developed rapidly, but new sustainable products have also been introduced: the number of new products such as green and social bonds has increased by 200% during the first half of 2014 and the trend continues. Similar growth rates are observable for products that offer the opportunity to only invest in sustainable ventures such as wind power plants or products that are subject to certain restrictions such as no investment in weapons or food speculation.

In consideration of the above—which institutions would benefit the most from a change of direction? With regard to this question, two circumstances intertwine: On the one hand, branches are being closed everywhere as a result of increasing digitalization, because daily banking issues rarely require customers to visit the actual bank branch (HVB announced to close 50% of their branches). On the other hand, facts reveal an information gap regarding sustainability products, implying that there is scope for advisory services linked to adequate sustainability product offers. On this basis, the sustainability trend could be a promising opportunity for local banks, following the successful practice of Postbank, where additional non-banking related products are offered to the ever-present queue of customers. Such supplementary products and strategic branding positions could also be established by cooperative banks and smaller banks, offering investments in sustainability-focused products that customers are looking for. As in the real estate industry, sustainable investments in local projects could be promoted by means posters in showcases. Consequently, two subjects are addressed at a time: a new customer focus and product range increases returns and bank branches gain attractiveness through this realignment, giving customers a new reason to visit.
Above all, another chance arises by choosing the way of implementation. Traditional banks do not have to reinvent themselves fundamentally, but may be able to enhance their value chain through a thoughtful selection of cooperation partners. Like this, they can also profit from their new business partners by learning from them and from their new competitors in equal measure. Given that sustainability in banking is a fresh and innovative topic, a cooperation model is a sensible idea. By establishing cooperations or shared service centers (SSC), banks can bundle their realization efforts effectively and establish new business ideas at the same time. In a similar way, joint ventures (JV) could be a possibility for established banks to enter innovative business segments.

In a nutshell, grasped variety of opportunities can be seized by engaging in the trend of sustainability in the banking sector, e.g. achieving a new market positioning, rebranding the financial institution, expanding the scope of business, establishing cooperations and/or attracting new customers. And above all, a contribution is made to the preservation of our planet and humankind. So considering the triad of ecological, economic and social aspects at the heart of sustainability, there is a chance for a real win-win-win situation!