LISTEN TO AUDIO VERSION:
Responding to digital transformation in banking with new business models for corporate clients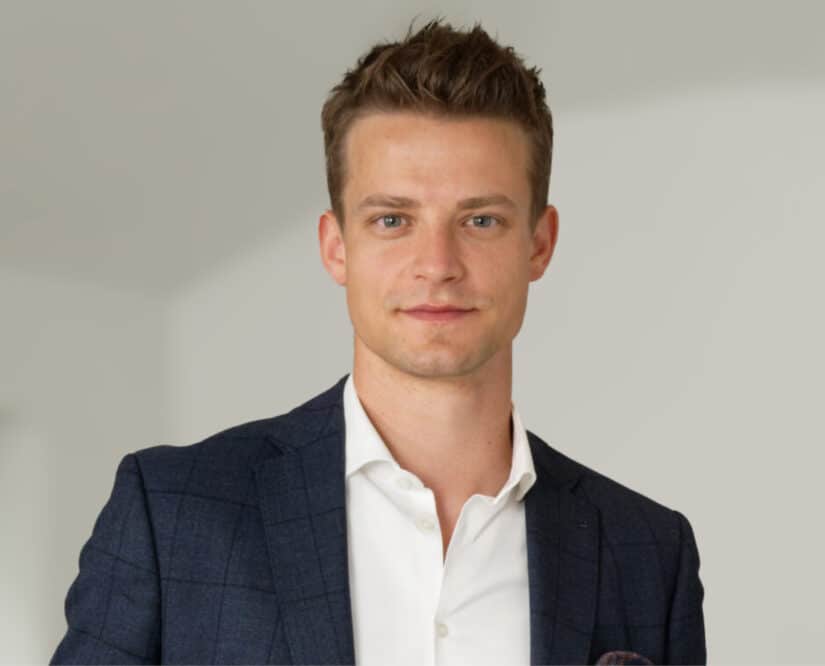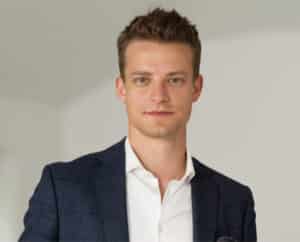 Tjark, according to your LinkedIn profile, you are a manager of QUIDT GmbH and are also involved in innovation management at Volksbank eG Südheide – Isenhagener Land – Altmark. How does that work?
Around one and a half years ago, we as a bank started to address the strategic development of alternative business areas, and in addition to topics that were already prevalent at the time, such as sustainability, business resilience, etc., we also looked at digital transformation. As a result, we developed a business model to expand our corporate banking services. QUIDT GmbH is a joint venture between a bank and a strategic partnership and allows me to proactively support regional small and medium-sized enterprises in various future topics outside of my work in the transformation and digitalization team.
In short, we are opening ourselves up to new working models and, wherever possible and where it adds value, we are doing all we can to allocate the right resources to emerging topics for our members and customers.
Can you give some examples of innovative solutions you are offering to corporate clients to help them digitalize their operations?
Since we went live, we have already been able to implement a large number of digital projects with companies in the region. I can't and don't want to focus on specific industries because there is digital potential everywhere.
But before I give examples, I'd like to highlight some of the biggest pain points we've seen so far. The necessary digital transformation of operational and production processes and, of course, the ever-increasing shortage of skilled workers are interrelated and challenge the business models of many SMEs in terms of cost and efficiency.
That's why we deliberately don't reach for some generic toolbox and pull out a standard app as a solution, but strive to understand the concerns, wishes and process requirements of our entrepreneurs.
This is the only way we can offer wide-ranging support, from a complex sourcing or vacancy portal in the area of technical building services or a newly designed real estate brokerage tool to production flow analysis with interfaces to existing ERP/CRM solutions. Holistic, integrated process consulting and software development that delivers business value to our customers.
This sounds like "beyond banking", i.e. services that go beyond the traditional banking business and which are sometimes the subject of controversial discussions. How do you decide which solutions to offer and which not?
We want to leave a lasting impression on the market with the solutions we offer.
This makes it all the more important that any services in addition to the traditional banking business remain within the defined strategic framework.
It was and is important to us not only to refine our market development – in this case on the topic of digitalization – but also to back it up with real implementation expertise.
Understanding the customer's situation, concerns, ideas or pain points is always our priority. Only with that understanding can we then start the design and subsequent implementation of specific database, (web) application, ERP or CRM solutions.
Regional banks' service offering: challenges and solutions
Why are regional banks the right providers for such models?
We are close to our customers and offer our entrepreneurs comprehensive and competent advice and support through various service modules – even before business model innovation. The digital potential described above must now be actively tapped in order to strengthen the business performance of regional SMEs through digital solutions. For example, we and our customers are asking ourselves the following questions:
How can software solutions help automate time-consuming activities in areas such as scheduling, order processing, or human resources?
Is there an opportunity to move payment dates and liquidity targets forward by streamlining billing services?
What P&L-relevant value do digital solutions add to my business?
Can we strengthen creditworthiness in the long term?
Advisory services and, ultimately, project-oriented software development are based on a high level of trust between the bank and the customer and once again underscore the significant role of and, at the same time, the opportunity for regional banks to enhance their profile in times of disruptive competitive structures.
What has been your experience in implementing these solutions?
At an early stage, we used various event formats to find out how the market and our customers would react to the new services offering.
The keenness to address the issue of digitalization was immediately apparent. Even more important to us was the positive feedback we received about commercial and corporate client advisors approaching the entrepreneurs directly and making them aware of the potential for each industry. Especially in the first step of thinking boldly about alternative process solutions, many are still unsure about how to get off to a good start. Thanks to our advisory expertise, we are able to act on the identified ideas and needs for action.
In this way, the regional bank can once again act as a sparring partner and enabler, strengthening the future viability of regional SMEs.
Cooperation of Volksbank Südheide with partners and other banks
How does Volksbank eG Südheide – Isenhagener Land – Altmark cooperate with other regional and national partners to implement these solutions?
I have already mentioned the importance and indispensable involvement of strategic partners, and it is precisely this cooperation and the diverse competencies that make a model such as that of QUIDT GmbH possible in the first place.
The 50:50 joint venture consists of us, i.e. Volksbank eG, and wissenswerft GmbH from Hanover. With Sascha Rühmann, my co-lead and at the same time the managing partner of wissenswerft GmbH, we have a digital agency on board that uses its expertise in SMEs to design various solutions on the consultancy side and implement them technically in-house. Since 2006, we have been developing and operating our own back-end, software and app solutions at several national and international locations.
To be able to start specific client projects in such a comprehensive and digitally charged way underlines on the one hand the professionalism at the beginning of the business model expansion and allows on the other hand a clean scalability of different services and projects.
The roles specified in the conceptual design phase form a successful team along the entire customer journey.
Do you also cooperate with other banks, and if so, how?
Absolutely, and here, too, we have already been through the first learning curves.
After introducing and testing the QUIDT services internally, we quickly realized that other regional banks – both Sparkassen and Volksbanken – are facing a similar challenge to competently position themselves on the topic of digitalization.
We have therefore established an additional stream that markets the developed formats externally and, supported by a commission model, creates attractive additional incentives for the banks.
After extensive onboarding of the corporate client bank and any support and service centers, we begin active market development with three formats.
(1 – Small group events) In various regions of the market area, customers are offered practical keynotes with best practice approaches and subsequent discussions on individual digital potential.
(2 – Digital consultation) In virtual or face-to-face meetings, business models and business processes are qualified for digital solution approaches.
(3 – Customer workshop) The specification of requirements for software features is the cornerstone for successful projects. The corporate client advisor supports this process as a key account manager.
Focus on innovation management: future plans and solutions for corporate clients
What are your plans for the future in the area of innovation management and what other solutions for corporate clients can we look forward to?
We want to continue to be active, and we see enormous potential to add more satellites to the path we have already taken, which is to establish and expand service offerings in the area of digitalization.
Of course, one obvious direction leads to sustainability issues, which are often correlated with digital progress or are based on accompanying tools or system-integrated solutions.
In principle, the strategic framework, the diversification and strengthening of distribution structures, and securing the future viability of our members and customers will continue to be the focus. I am sure that by looking through both a banking and a digital lens, we will discover and adjust many levers that will have a positive impact on the market positioning of regional banks.
Innovation doesn't happen without a bold readiness for trial and error, so let's do it.
Tjark, we are eager to see how things will pan out and thank you for the interview!