LISTEN TO AUDIO VERSION:
Review of credit events 2021
For the past year, we systematically processed and scored a total of more than 375 digital credit events taken from renowned international and national sources.
National sources included WirtschaftsWoche, Gründerszene.de, Handelsblatt, Finance FWD and finletter. International sources included Reuters, TechCrunch, Fintech Futures and Bloomberg.
A selection of individual digital credit events from January to December is presented below.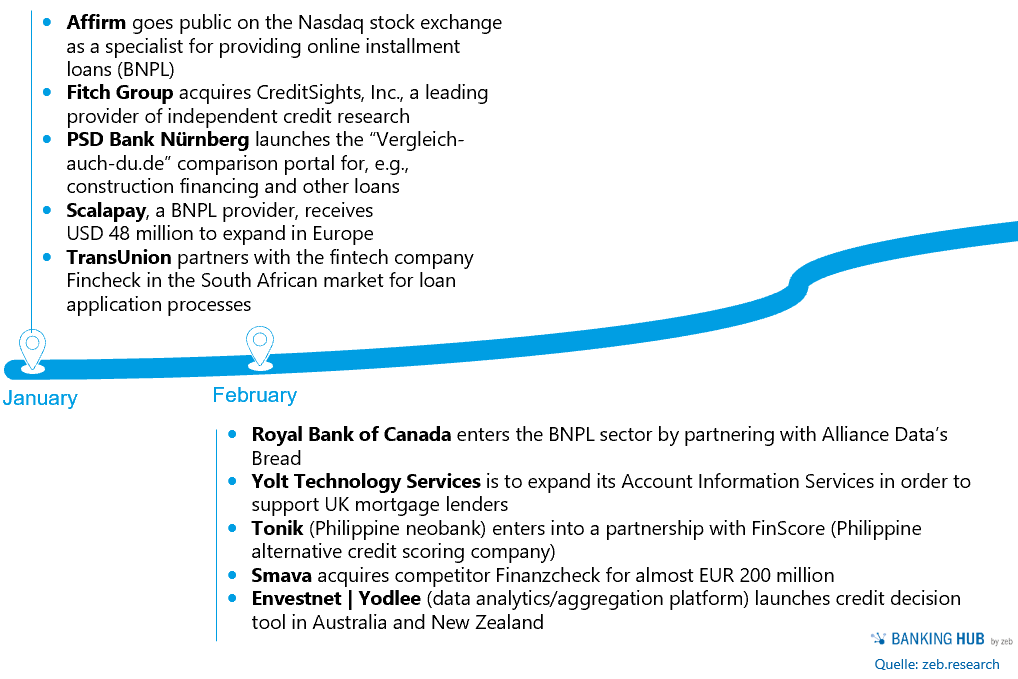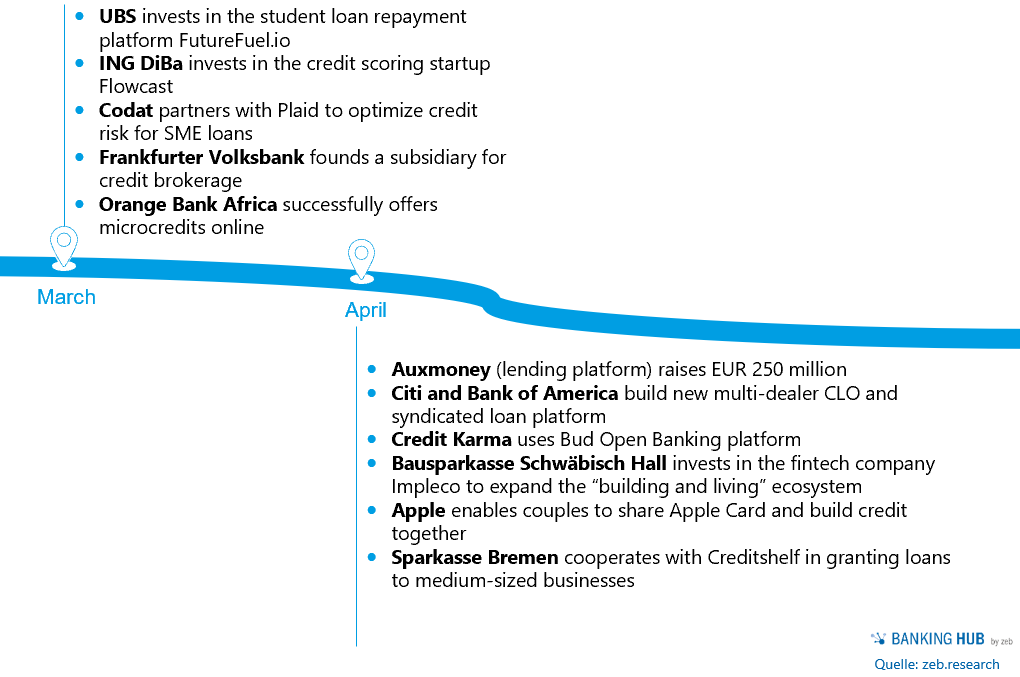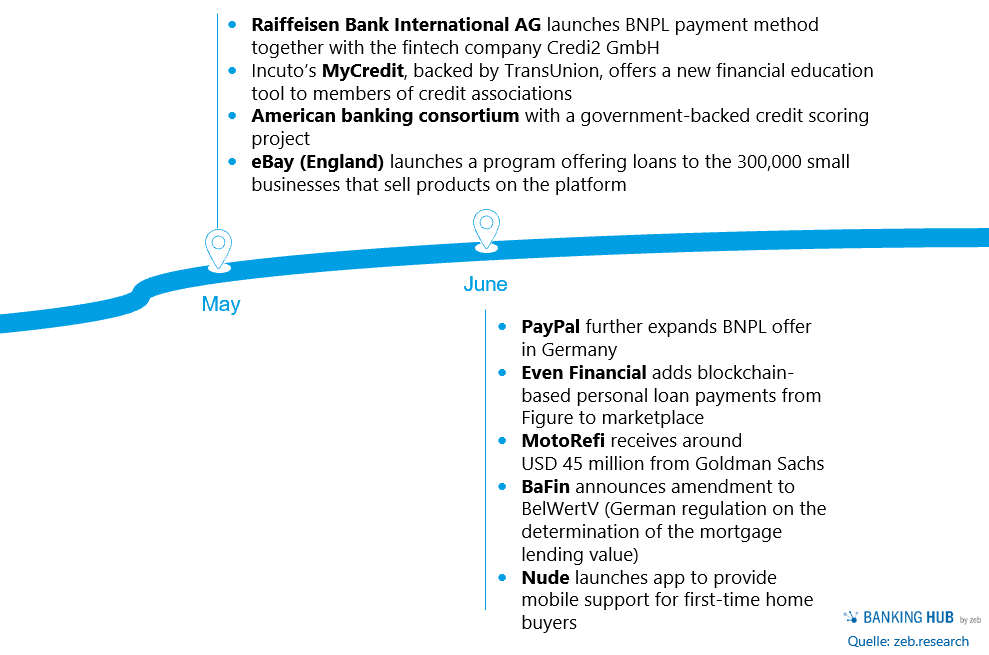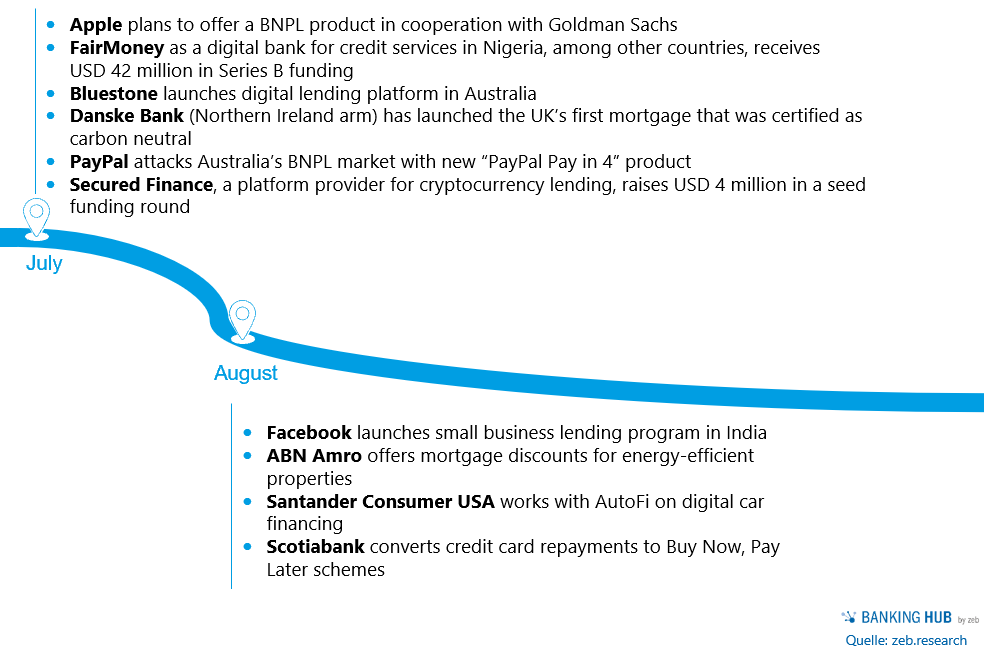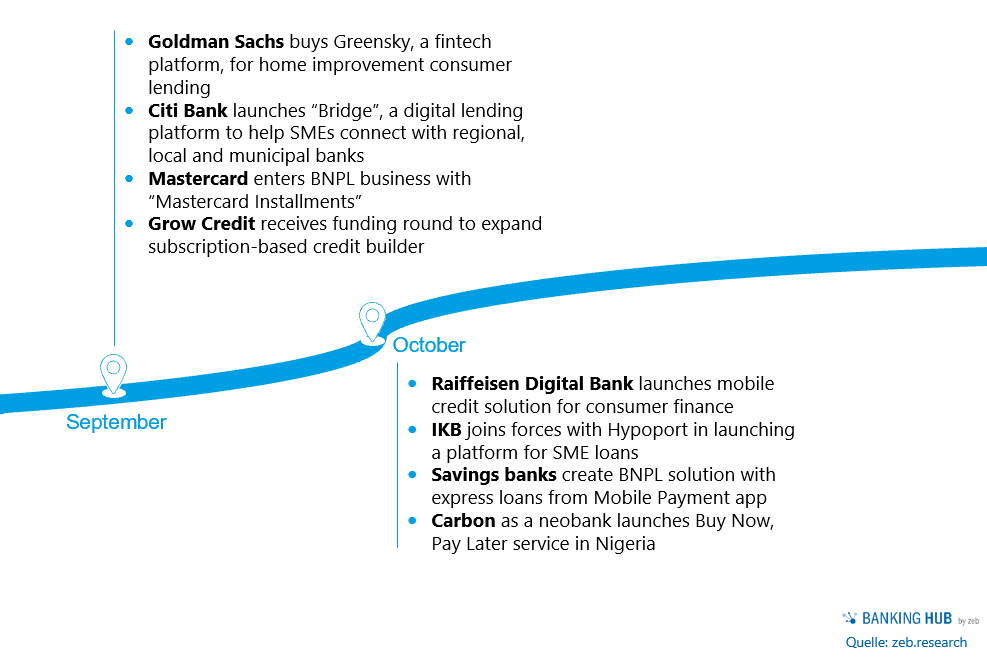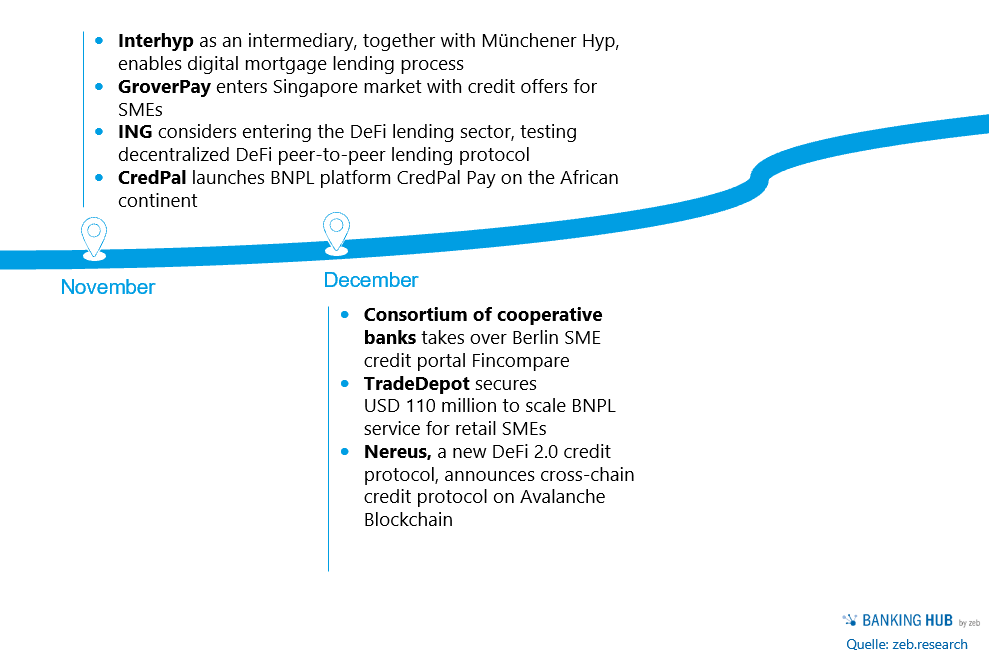 Figure 1: Overview of digital credit events in 2021 – January to December 2021
California-based online installment loan specialist Affirm goes public on the Nasdaq stock exchange.
Interhyp together with Münchener Hyp enables a fully digital mortgage lending process.
Grow Credit receives funding to expand a subscription-based credit builder.
Goldman Sachs buys Greensky, a fintech platform for home improvement consumer lending.
Danske Bank (Northern Ireland entity) offers the UK's first loan certified as carbon neutral.
RioDeFi, an Asian DeFi incubator focused on the lending sector, is launched.
These events exemplify six globally observable lending themes in 2021:
In the following, we would like to look at each of them in detail.
Digital credit events can be categorized into six groups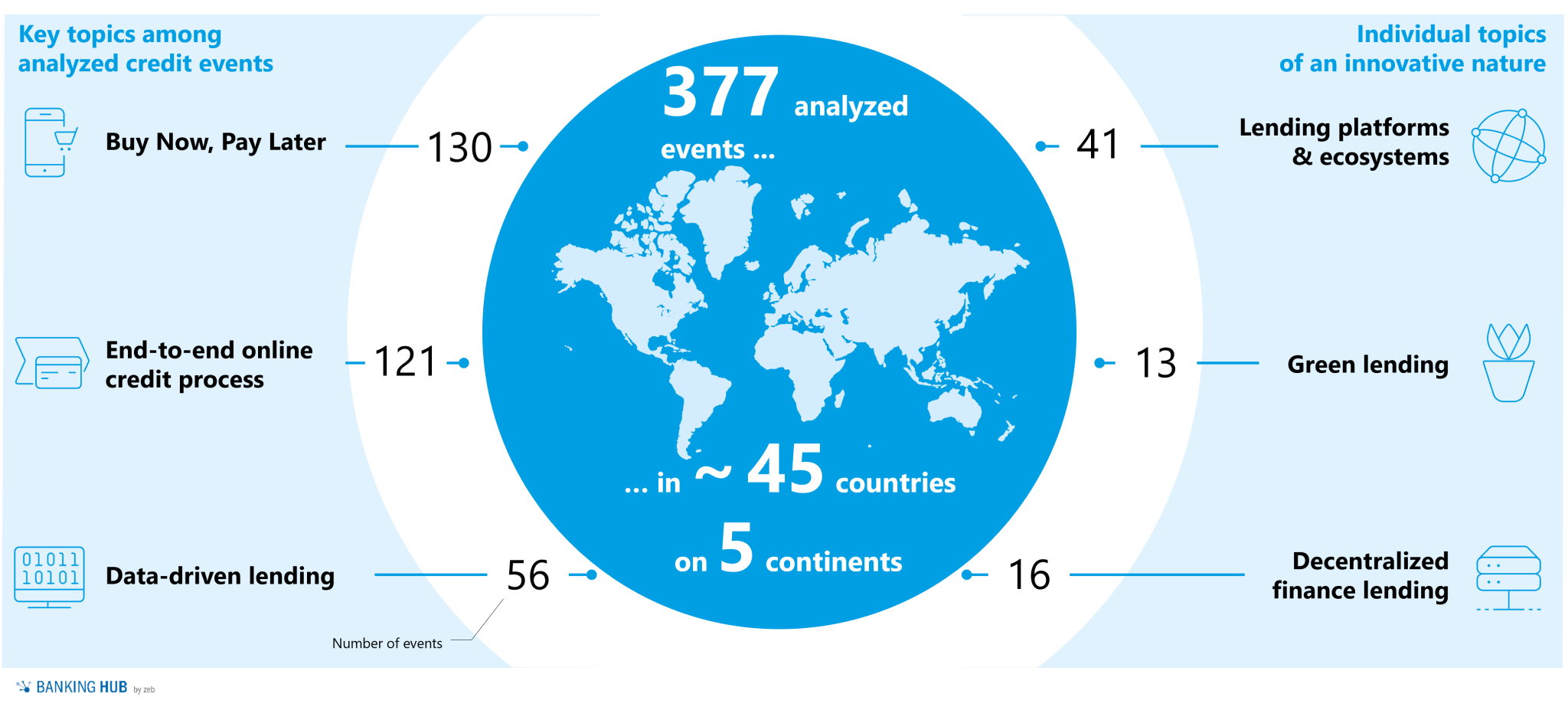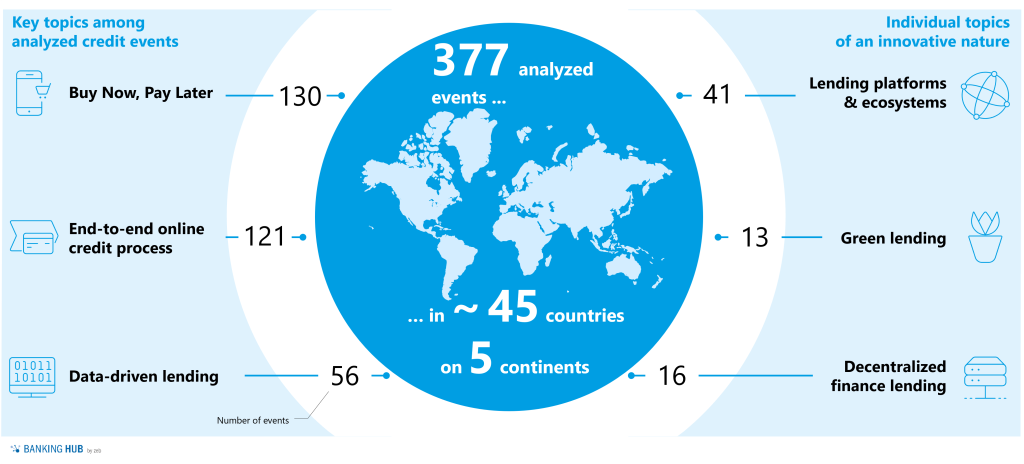 Figure 2: Overview of digital credit events – global perspective on focus topics
Buy Now, Pay Later (BNPL)
online providers, such as Affirm, AfterPay or Scalapay, tend to offer their customers a zero-interest, zero-cost installment loan on their shopping carts. Not least because of the ongoing Covid pandemic and changing customer behavior, the importance of this topic has increased significantly.
E2E online credit process
The focus is on full digitization of the end-to-end (E2E) processes for application, processing and disbursement along the customer journey with a maximum degree of automation. Omnichannel management and frictionless transitions remain crucial: digital personal advice for some credit products (esp. construction financing and corporate loans) with state-of-the-art technical module support for automation and digitization, e.g. document management system, digital account analysis in retail and corporate lending.
Data-driven lending
Here, the focus is on the efficient use of all available data along the customer journey. The use of automated scoring or decision models enables granular credit scoring. In addition, data is used to make predictions regarding expected borrowings (predictive analytics).
Lending platforms & ecosystems
The focus is on establishing platforms and ecosystems in the context of consumer, mortgage and corporate loans. The current focus is on digital lending platforms, differentiated into comparison sites, distribution platforms and credit marketplaces.
Green lending
New market standards and changing regulatory frameworks in the area of sustainability are important factors that have an impact on the lending process. Based on sustainability principles, green lending steers the financial flows from investors into sustainable projects.
Decentralized finance lending
Due to the interaction of market players via a distributed system of decentralized applications or apps, DeFi lending no longer requires a central party as an intermediary, which can simplify the lending process overall.
Five theses for the credit year 2022
Based on the events and findings described earlier, we derive the following five theses for the 2022 credit year: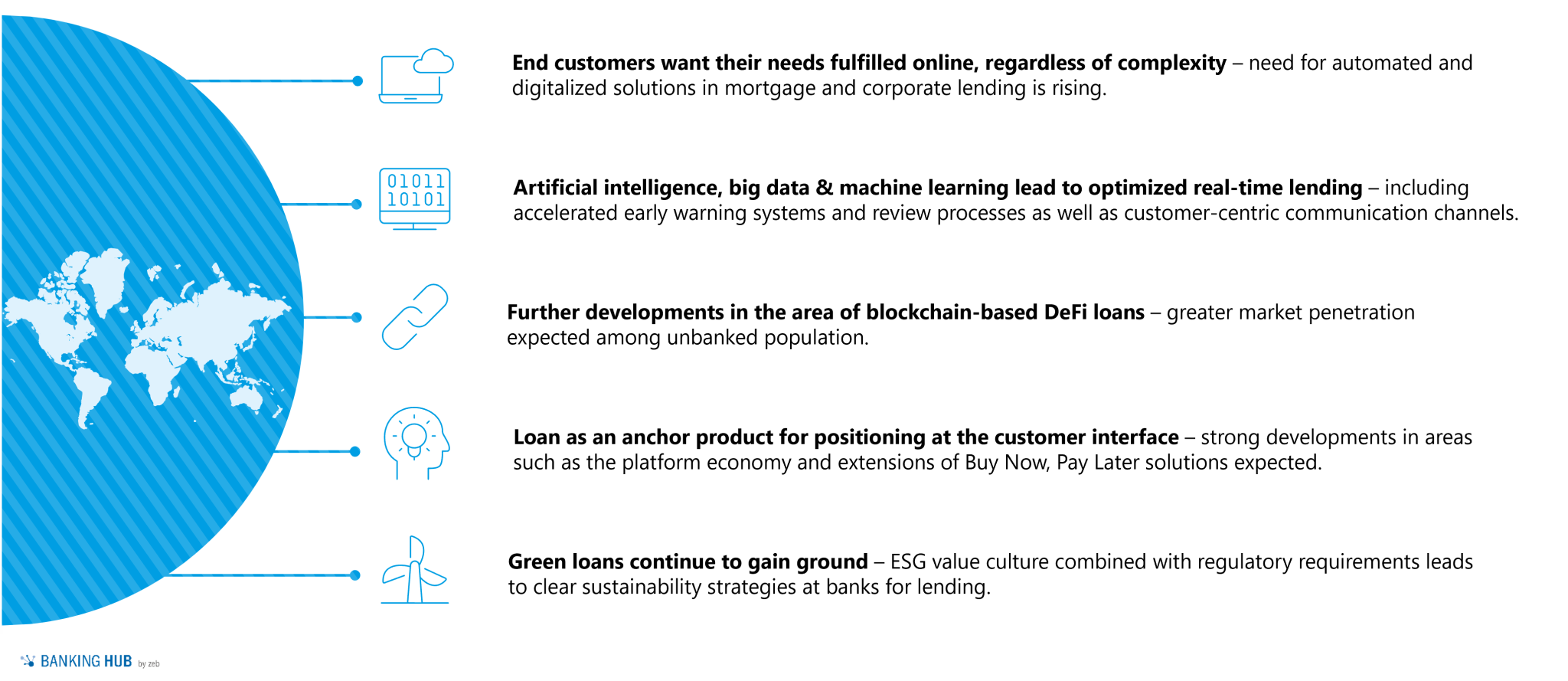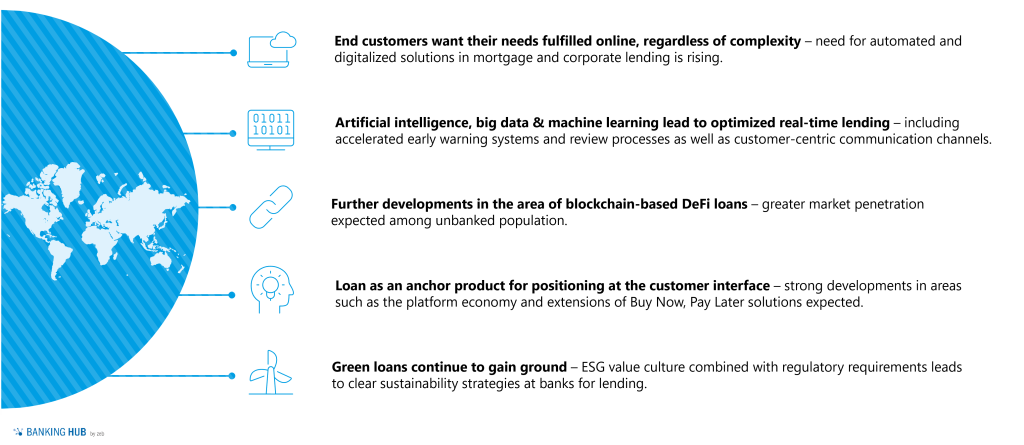 Figure 3: Our perspective on 2022 – 5 theses
In 2022, the innovation speed of digital credit events is going to accelerate further – we will continue to observe these for you and are happy to discuss their impact on your business model as well as possible actions in the course of transforming your lending business.