LISTEN TO AUDIO VERSION:
Penetration rate of mobile payments worldwide
In this article, the term Mobile Payment is referred to as the individual payment instrument based on purchases at a POS, i.e. the place where services or goods are paid for or purchased.
A growing portion of the world's population is making these phone-assisted transactions[1]. In Asia, the penetration rate of mobile payments is extremely high, with eight Asian nations in the top 10 markets worldwide.
This kind of payment solution is also gaining momentum in many European countries, including Denmark, Sweden, Switzerland and Italy, which have seen a consistent increase in mobile payments usage. However, the adoption of mobile payments in Germany, historically an innovation power hub, remains surprisingly low compared to most other European and Western counterparts.
German payment culture and its challenges
"Nur Bares ist Wahres"—the German equivalent of "cash is king"—is a popular saying in Germany among old and young alike.
Visitors quickly notice that cash plays a bigger role in German life than it does in some neighboring countries. Cafés, pubs and smaller supermarkets and retailers are often cash-only establishments. Reports show that the adoption rate of mobile payments in Germany is significantly lower than the worldwide average. The adoption rate in Germany is 12.5% among mobile users, portraying a slow adoption compared to that of similar economies, such as the UK (19.1%), Italy (21.1%), Switzerland (22.3%) and the USA (29%)[2]. For Germans, using cash is not just a personal preference, it's a cultural value with centuries-old origins.
The increased acceptance and use of payment alternatives to cash, such as credit and debit cards, e-wallets and invoice payments, illustrate the potential of these alternatives in the German market. However, it is vital to understand the main concerns and reasons behind the slow adoption rate for mobile payments in Germany compared to similar markets.
Studies suggest that Germany's mobile payment usage lags behind for a variety of reasons, but the most relevant ones are: i) security and privacy concerns; ii) payment method is too complicated; iii) consumers' devices lack the technology for contactless payment (NFC or QR code) and iv) lack of availability at POS[3]. However, the German payment landscape has been evolving in recent years.
German payment landscape has been evolving
An ongoing study tracking consumer payments in the region noted a slow but steady shift in habits[4]. Young consumers, in particular, are looking for alternatives to classic payment modes, with one in four respondents in the 18–24 age group noting, for instance, that they would like to be able to send money to friends and acquaintances using their mobile phones in a "simple, easy-to-use manner".
Thus, in order to increase the adoption of mobile payments in Germany, a mobile payment solution should include features that address these concerns and meet the needs of German users. These can be tackled by:
assuring secured data
extending the acceptance of the solution to merchants
a quickly accessible and deployable application with numerous functionalities
---
The German mobile payment market is heterogeneous, not only from the perspective of different types of solution providers, but also when looking at the deployed technologies such as NFC or QR codes.
In the topic excursion we will give an overview of the significant players and the offered solutions:
To the excursus: "Mobile payments in Germany—a heterogenous market"
---
Digital transformation accelerated by COVID-19
Opportunity for mobile payment players is emerging
 While the economic crisis caused by COVID-19 is having a devastating impact on businesses and individuals globally, an unexpected opportunity for mobile payment players is emerging. In light of the zeitgeist shift across the country, more and more merchants are allowing—and often even encouraging—customers to perform contactless payments. Out of the fear of spreading COVID-19, customers are also favoring cashless payments.
Even though during the crisis people have looked for familiarity and things they can trust, the pandemic is pressing the change towards the new. It is the first time that cash is taking a back seat to other payment methods within the region[5]. During this period, Germans  have been using debit and credit cards 57% more often than they did before the pandemic, and almost half have "significantly reduced" their cash use. Mobile payments have been gaining traction as well. The German central bank, however, insists that euro banknotes are less likely to spread viruses than door handles, elevator buttons or shopping carts. Nonetheless, hygienic concerns about money have been spreading almost as fast as the virus.

The crisis was likely the nudge that the German society was ready for
It is hard to imagine the same magnitude of cash prevalence in post-COVID-19 times. The crisis was likely the nudge that the German society was ready for. According to the German Payment System Initiative, the greater card use is expected to continue; likely even through an exponential growth.[6] The question remains whether mobile contactless payments will succeed in grabbing the new market share opened up by the pandemic. At first, consumers may intuitively prefer credit and debit card payments over mobile payments, the first being a more familiar payment instrument. But it would still present a great growth potential for mobile payment players in Germany. After the crisis, the availability of mobile payment technology at smaller merchants will probably be significantly increased amid these shifts in consumer attitudes.
The future outlook
Riding the wave of change driven by the COVID-19 pandemic
Now, the future for mobile payments in Germany looks significantly more promising than a few months ago. Nevertheless, successfully riding the wave of change driven by the COVID-19 pandemic will require more innovation and novelty. Big tech players such as Apple or Google are likely to remain strong in Germany. Still, the particularities of the German market leave space for a third (new or old) major player that could shake up the incumbents.
In an attempt to predict the future potential of such a successful mobile payment solution in the German market, we need to look at the previously indicated consumer demands. Confronting the customers' need for more security and lack of trust, the need for wider availability and the need for a simplified user experience, these aspects clearly are the three cornerstones in building the mobile payment solution of tomorrow.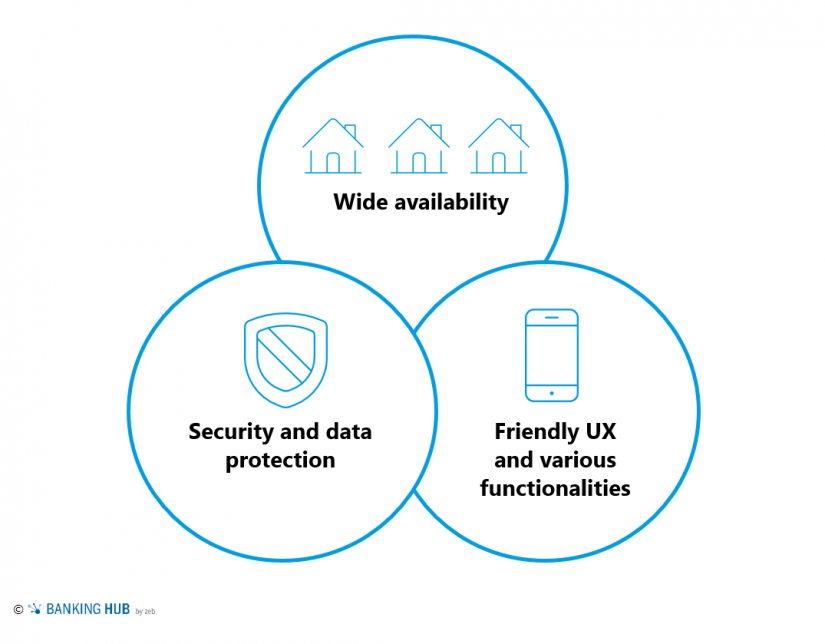 Security comes first
Our survey findings show that 55% of respondents would prefer a traditional bank as their solution provider for mobile payments. Compared with a low 14% of users who indicate that the solution provider should be a neo-bank, or 7% who say big tech companies are their preferred choice, traditional banks fare remarkably better.[7] The respondents state reliability and security as the main reasons for these preferences. This leads us to the conclusion that traditional banks have a great business opportunity when it comes to developing a successful mobile payment solution which leverages their customers' trust. Upping their current efforts in the mobile payments field is a sensible step for prominent traditional banks.
Consumers' demand for convenience
Second, the consumers' demand for convenience entails the need for a wide availability/ acceptance of such a mobile payment solution across all merchants, both big and small. Even though the pandemic initiated an increase in merchant adoption, a more competitive fee charged to the merchant can further accelerate this process. With interchange fees as low as 0.2 to 0.3%, an efficient operating model is a must to remain competitive. And as the volume of transactions initiated through mobile payments is slowly rising, merchants will be urged to offer more payment methods other than cash, or else they will face decreasing revenues, with their customers switching to competitors.
What is the next mobile payment solution?
However, offering attractive interchange fees only is not enough and new mobile payment solutions must seek other sources of competitive advantages that offer more convenience for both merchants and end consumers (e.g. reward programs, tailored marketing, bill splitting, etc.). We see the next mobile payment solution as a central solution that offers a number of different functionalities.
This is consistent with our survey findings which show that 89% of the respondents indicate convenience as the main reason for using mobile payments. The inclusion of different functionalities would add significant value to the convenience aspect of the mobile payment solution. P2P transfers, bill splitting, expense management and participation in loyalty programs and rewards, all in one place, is something that would significantly save time to the consumer. A partnership with one of the many prominent loyalty card programs, which are widely accepted and used among Germans, is one example of how a mobile payment solution player could achieve the much-needed differentiation from the fierce competition.
Market expansion
The fundamental shifts caused by the pandemic are already speeding up merchant adoption of mobile payments in Germany[8]. The increased consumer preferences for contactless payments will expand the market. Undoubtedly, there are players out there who are ready to seize the opportunity. The start-ups and big techs, which have been threatening the incumbents through digitalization of payments for years, will likely get the first shot. More sweeping modernizations will certainly continue shaking things up and soon offer innovations in mobile payments. This leaves us with the question of how successfully they are going to address consumer demands and incentivize consumers to accept their solutions. So far, success has been limited.
Changing the prevailing payment habits of cash-loving Germans may still be a rough road, but change is imminent.
This article was written by students of the CEMS Master at Vienna University of Economics and Business (WU) during their business project in cooperation with zeb. Special thanks to: