LISTEN TO AUDIO VERSION:
What benefits can AI and RPA bring to building societies when used in corporate management?
The main task of corporate management is to manage and balance earnings, costs and risks. The activities required to perform this task are carried out by various departments, as illustrated in Fig. 1.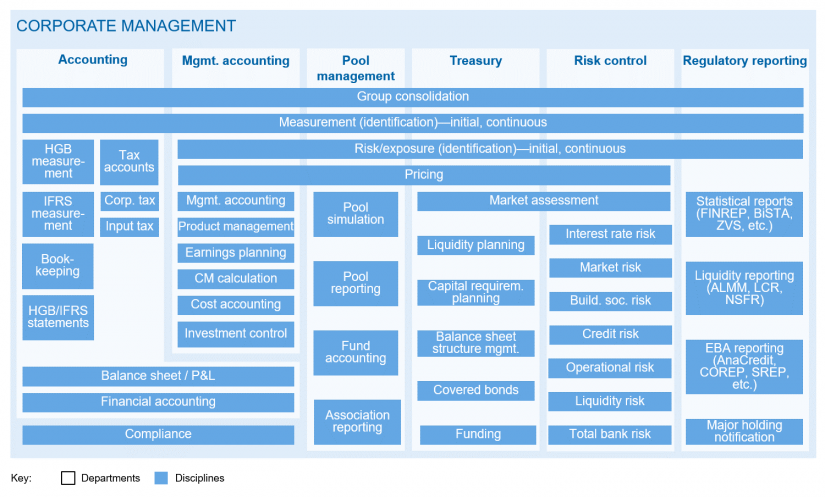 Against this background, this article aims at assessing the potential benefits of RPA and AI and includes an indication based on project experience and expert assessments. But in view of the current dynamics in developing and adopting new technologies, this picture can only represent a snapshot.
RPA in corporate management
In essence, RPA is the automated processing of frequently repeating and rule-based business processes through machine-based imitation of user roles and activities. "Bots" interact directly with the graphical user interface of various software systems via keyboard entries and mouse inputs.
This basic understanding laid the foundation for assessing the application of RPA for the individual corporate management areas along the dimensions of feasibility and benefit. Primary criteria here are employee retention, quantity structures and duration. The benefit dimension is illustrated in terms of cost, time and quality advantages. The assessments refer to certain levels of the entire department. The below illustration (Fig. 2) is based on selected examples.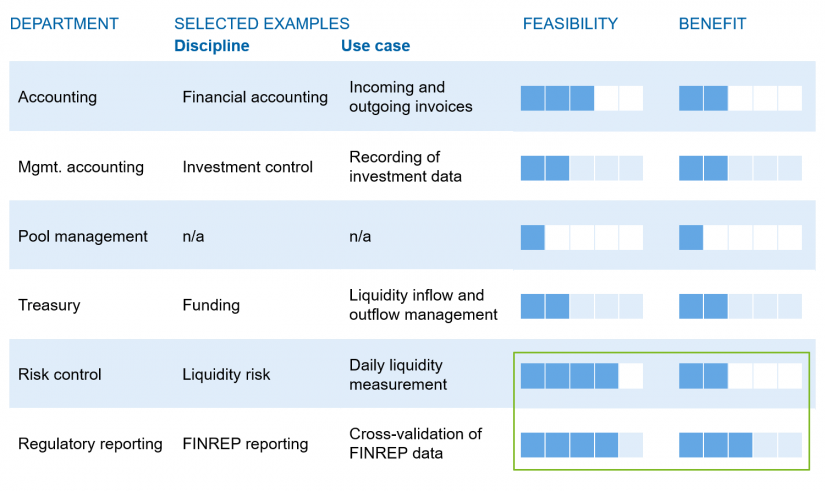 Overall, the assessment indicates rather low (benefit) potentials for RPA in corporate management. Although many processes exhibit necessary characteristics such as rule-based, structured, repetitive, etc., the requirements regarding quantity structures and the necessary utilization of staff capacities are only rarely met and thus do not justify the use of RPA from an economic perspective. This assessment is also confirmed by the latest zeb.RPA study[2].
Even if this does not seem to be "love at first sight", it is still worth a second look. The process landscapes in corporate management are often very individual and specifically geared to the needs of the respective institution. Possible candidates for process automation may be found, for example, in (daily) processes for calculating interest and liquidity statements in risk control and/or regulatory and legal reporting. In addition, the added value of RPA applications in corporate management lies in quality improvement rather than efficiency. It would be possible, for example, to significantly reduce manual efforts for corrections and rework or to improve service level agreements for the creation of internal and external reports.
AI in corporate management
Being a branch of computer science, AI has been involved in the development of intelligent algorithms for more than 60 years. These are able to solve problems independently and to improve their "behavior" and adapt it to the situation by learning. AI as it is currently mostly used focuses on solving individual, narrowly defined tasks. Special attention is devoted to recognizing patterns and making forecasts to support decisions.
The following paragraphs feature an assessment of AI application areas in corporate management along the dimensions of feasibility and benefit. Feasibility is based on criteria such as the size, complexity and quality of the database, regulatory requirements and suitability for standardization. This is contrasted with the benefits, which are assessed on the basis of time and quality advantages with regard to recommended actions, or in other words support for "better" decisions (Fig. 3).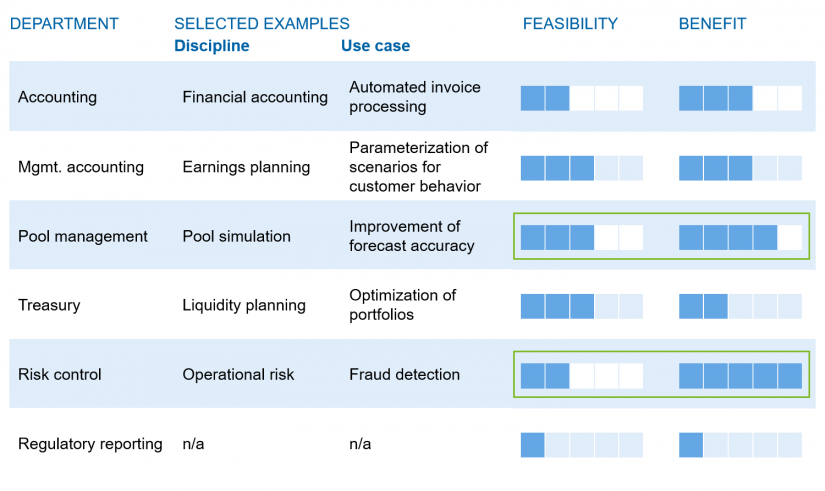 The assessment reveals an overall medium potential of AI in corporate management. This is due to the fact that many processes and decisions are strongly rule-based and that the required database is not available with a sufficient scope and necessary quality. In contrast, the use of AI appears to be predestined for the fraud detection use case in risk control. This also applies to risk assessments of borrowers, although this is currently limited by regulatory requirements.
Again, it does not look like "love at first sight". The use of AI solutions depends much more on the general conditions for implementation, such as the quality of the database or regulatory requirements. While individual institutions are hardly or not at all able to influence regulatory provisions, the situation is different for the database. Here, it helps to closely link AI initiatives with existing data management and to connect distributed isolated AI solutions at divisional/departmental level through a holistic, institution-wide AI approach.
Conclusion of RPA and AI in the corporate management of building societies
Corporate management in building societies can benefit from a selective and targeted use of RPA and AI. However, using both technologies according to the "shotgun approach" or making generalized statements on specific benefit potentials or amortization periods hardly seems sensible.
Instead, the use of AI and RPA needs to be assessed for the respective institution and the specific use case. A more detailed analysis of the possibilities and potentials offered by the use of RPA and AI can be found in zeb's study on the German building society sector, the zeb.Bausparstudie.