LISTEN TO AUDIO VERSION:
Strategic relevance & areas of application
1. AI is a hot topic for building societies
As of today, 61% of the survey participants rate the strategic importance of AI as "high" or "very high". When looking three years ahead, this figure even increases to 74%.
The significance of AI for building societies is also reflected in the fact that the topic has been increasingly integrated into the strategies of these institutions. While in 2019 only 24% of stated that they had integrated AI into their strategy, this figure rose to 70% in 2021. The topic was most commonly included in the IT strategy (48%) or business strategy (35%)[1].
Now that AI's strategic relevance has been widely recognized, it is essential to work on its consistent implementation in the near future.
RPA and AI in the corporate management of building societies
In the last AI study we did an an assessment of current application potentials of RPA and AI in the corporate management of building societies.
2. Management in favor of AI, but perception still needs to be improved
When asked to what degree the top management level (in this case, executive board and divisional management) backs the advancement of AI in the company, 39% of participants responded with high or very high. Board members and divisional managers rated the support of the management team higher than participating lower-level managers, i.e. department and team managers, and experts.
Experience shows that management support gives a strong signal to employees, which is crucial to the success of projects. Therefore, it is necessary to work specifically on improving perception at this level. In discussions with representatives of the participating institutions, it was frequently stated that the possible reason might be budget or resource cuts after an initial enthusiasm for the topic. In other words, there is a discrepancy between intention and implementation.
3. Greatest potential in processing and marketing & sales
When asked about the main areas of application of AI in building societies, the responses in 2021 differed considerably from those given in 2019. In the current study, a clear ranking can be detected.
Number one, reaching 91%, is processing: in this area, respondents see the greatest opportunity for the use of AI. It ranks far ahead of marketing & sales (61%)[2]. These results also match the goals that are being pursued by means of AI: process automation (83%) and improved customer processing (48%).
A comparison between private buildings societies and Landesbausparkassen ("state buildings societies") reveals minor differences in the ranking. While processing holds the greatest potential for both types of institution, corporate management ranks in third place after marketing & sales at state building societies.
Organization, personnel & skills
4. AI competencies are crucial, but the level of expertise is rarely sufficient
A wide range of skills is required for the successful implementation of AI projects. The participating building societies rated AI, IT and project management skills as the most important in this context.
IT competencies are often required in the first AI implementation projects, as fundamental issues, such as data connections or cloud usage, need to be clarified at this stage. Expertise in project management is frequently required too – since most AI initiatives are organized on a project-driven basis. Also, owing to their interdisciplinary nature, they involve a large number of stakeholders from business and IT, who need to be adequately managed.
However, according to their own statements, many building societies still need to acquire more AI and IT expertise. In this field, building societies compete with many other companies for talents and should develop an individual recruiting/personnel development strategy.

Technology & data
5. Deployed AI capabilities with a focus on automated document processing
In terms of AI capabilities, text recognition (90%), classification (67%) and image recognition (57%) were the top capabilities mentioned[3]; these are typically used for an efficient and automated processing of documents. Capabilities such as speech recognition (24%) were mentioned less often.
This observation shows that the use of technology corresponds to the order of goals mentioned above.
In discussions about the initial findings of this study, however, it emerged that this is mainly due to timing issues. Generally, it is planned to integrate AI into customer interaction in the near future.
A comparison demonstrates that the use of different AI capabilities is more advanced in private building societies than in Landesbausparkassen.
6. Personal data used to a high degree in AI projects – restrictions owing to data protection are perceived very differently
A large proportion of study participants reported the use of personal data (84%) in AI projects. The challenges resulting from data protection regulations are perceived very differently by participants. One-third of respondents judged the restrictions imposed by the General Data Protection Regulation (GDPR) to be (very) low, medium or high, respectively.
There is a major difference between private building societies and Landesbausparkassen. While 46% of participants from private building societies replied that the challenges were high, only 13% from Landesbausparkassen made the same statement. One possible explanation for this might be that private building societies have already assessed the issue of implementation more comprehensively, as will become evident in the use cases & implementation section.
BaFin's regulatory requirements for AI applications
BaFin presents principles for the use of algorithms in decision-making processes outlining  requirements for the controlled use of artificial intelligence (AI).
Use cases & implementation
7. Availability of skills & knowledge is the biggest challenge when implementing AI projects
As in 2019, skills & knowledge were cited as the biggest challenge when implementing AI projects (58%).
Compared to the first 2019 study, however, some progress has been made. For example, skills & knowledge was mentioned  by 74% of participants in 2019. IT systems & infrastructure decreased even more: from 74% to 26%.
This suggests that knowledge and skills have been gained in this area and that AI is becoming manageable. An insufficient budget is the second most mentioned challenge in 2021 (42%). We observe a slight increase here since 2019 (38%). The availability of internal and external data ranks in third place (32%) – this was not an answer option in 2019[4].
In contrast to the average result, Landesbausparkassen see greater challenges in skills & knowledge (71%) and the identification of use cases (43%) than private building societies, which name higher budget restrictions (50%) and see fewer challenges in skills & knowledge (50%).
8. Initial implementations in place, but in some cases benefits have yet to be realized
The observation that Landesbausparkassen see greater challenges in identifying use cases is congruent with the available data regarding actual benefits. Only participants from Landesbausparkassen answered that so far no benefit has arisen from any AI project (57%), while not a single participant from private building societies stated such a result.
This and the previous argument are early signs that AI pioneers are emerging among building societies. These are more advanced in terms of substance and methodology and are implementing AI projects more successfully than other building societies. However, only a more long-term analysis will show whether this assumption holds true or whether building societies who are still lagging behind will catch up.
Conclusion: AI in the building society sector
The study demonstrates that since the first survey was conducted two years ago, the use of AI in the building society sector has evolved significantly and AI as a technology is now considered highly important by the majority of players.
At the same time, the results show that the pace of adaptation varies greatly across the sector. On the one hand, we see institutions that have already implemented several AI projects, built teams and planned further implementations. On the other hand we see a group of building societies that have launched few or no AI initiatives to date and have no plans to do so in the near future.
The study's eight key findings are presented in Fig. 2: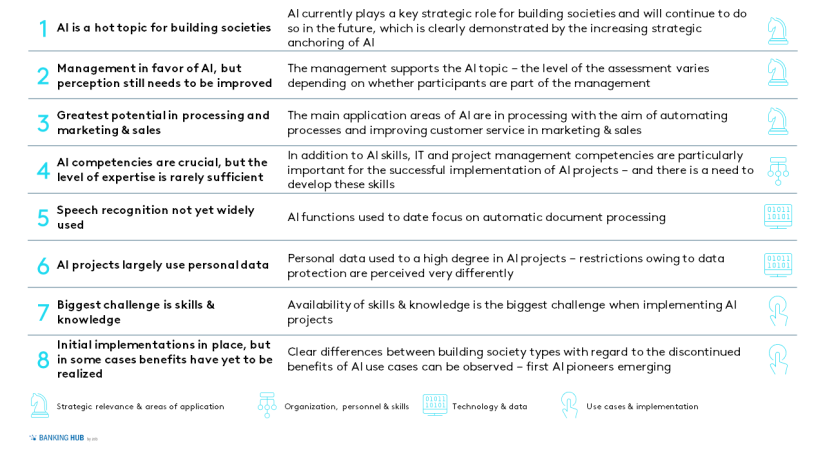 Detailed results of the study are available to study participants in the interactive dashboard on zeb's Digital Services Hub. Please do not hesitate to contact us for further information.