LISTEN TO AUDIO VERSION:
What are portals? Success factors:
Portals are already widespread today, not least because banks increasingly regard them as a customer-related hygiene factor. According to this logic, customers generally assume that a portal is available, but its existence does not distinguish a bank from other institutions. If, on the other hand, a bank does not offer a portal, the customer tends to perceive this negatively, which in turn leads to potential customer churn. Introducing a portal is by no means a sure success. The following aspects, however, can serve as a guideline for this complex task.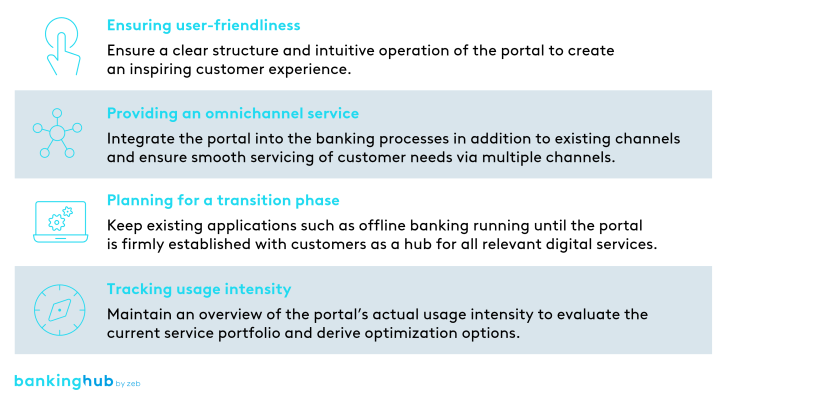 Ensuring user-friendliness: user-friendliness has highest priority when designing a portal. Among other things, the portal must contain the essential functions required by the customer and make them easily accessible in the sense of a single point of contact. This requires an intuitive, clear structure that guides the user easily through the portal and the corresponding banking processes. Involving UX/UI experts and designers in the process is therefore indispensable. In addition, the portal should provide the customer with options for personalization on the central dashboard of the application, for example.
Providing an omnichannel service: a portal acts as a new point of sale and service and supplements already established channels. Consequently, banks should ensure the smooth integration of the portal into their existing banking processes at an early stage and detail the interaction with the other channels. As a result, we expect a portal to provide relief for the established channels and capacities. In addition, portals should be suitable for all distribution channels to provide customers with easy access via smartphone, tablet, etc., while at the same time allowing for a smooth transition to other channels, such as offline advisory.
Planning for a transition phase: a portal serves as a strategically important point of contact with the customer and offers all relevant digital services of a bank combined in one place. In the future, it will replace individual applications, such as online banking. Since banks should ideally develop their portals in MVP (minimal viable product) logic, there is a potential risk that customers will regard the initially launched MVP as inadequate and may migrate if banks shut down the individual applications straight away. Developing the MVP until it matches the status of established applications, however, is likewise not a recommendable alternative, as this tends to result in long development times and slow market entry. When introducing the portal, banks are well advised to plan for a transition phase and thus to keep the individual existing applications running until the customers have adopted the portal and it has been iteratively developed further.
Tracking usage intensity: as a new point of service, it is crucial for the portal that customers are actually willing to use the services offered online. Ultimately, this means that not every service is suitable for the portal. Banks should therefore track the use of their offerings regularly and adjust the service portfolio accordingly. Low usage can be an indicator that the bank needs to complement the service with more in-depth advice or revise the online-based service offering.
Process model
For an effective implementation and the creation of a portal, we recommend banks to proceed along the following four steps: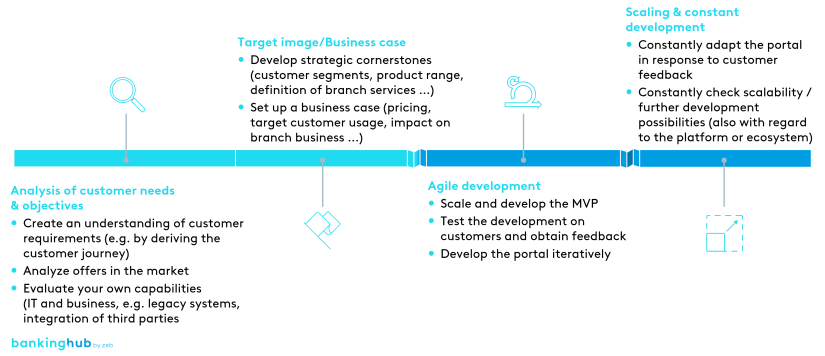 Analysis of customer needs & objectives: banks need to consider customer requirements as a central component when designing the portal. Therefore, they should begin by establishing a thorough understanding of the customer's specific wishes and requirements. One suitable method for this purpose is the development of customer journeys by using the design thinking method. Furthermore, banks need to screen the market for possible competitors. Finally, a bank should have an understanding of its own actual IT and business capabilities, which they may need to set up the portal, such as the ability to use legacy systems or to collaborate with or integrate third-party vendors.
Target image & business case: based on this analysis, banks should then define strategic cornerstones, such as the targeted customer segment and product range, and thereby build a sustainable target picture. Moreover, they should examine the economic viability within the framework of a business case.
Agile development: banks should take an agile approach to the development of the portal. This means quickly developing a functional portal with limited but essential functions in accordance with the MVP principle, and then iteratively refining this portal together with the customer.
Scaling & constant development: even after launching the portal, banks should repeatedly collect customer feedback in order to regularly challenge and improve their offering. They should also continuously review possibilities for scaling and constant improvement, such as the addition of offerings or expansion towards a platform or ecosystem.
Design example in corporate banking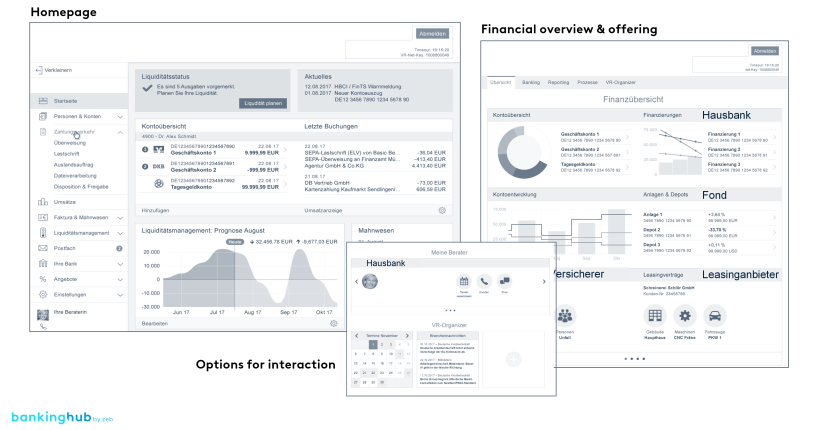 This zeb project example clearly shows that user-friendliness is the be-all and end-all for a corporate customer portal. The well-structured interface allows intuitive navigation through the entire portal. Customization options and the modular structure make it possible to provide individual segments with relevant functions. In addition, the portal's design is optimized for desktops as well as for mobile devices. Furthermore, the integration of (individual) solutions from other product providers creates a consistent customer experience for the user.